American comforts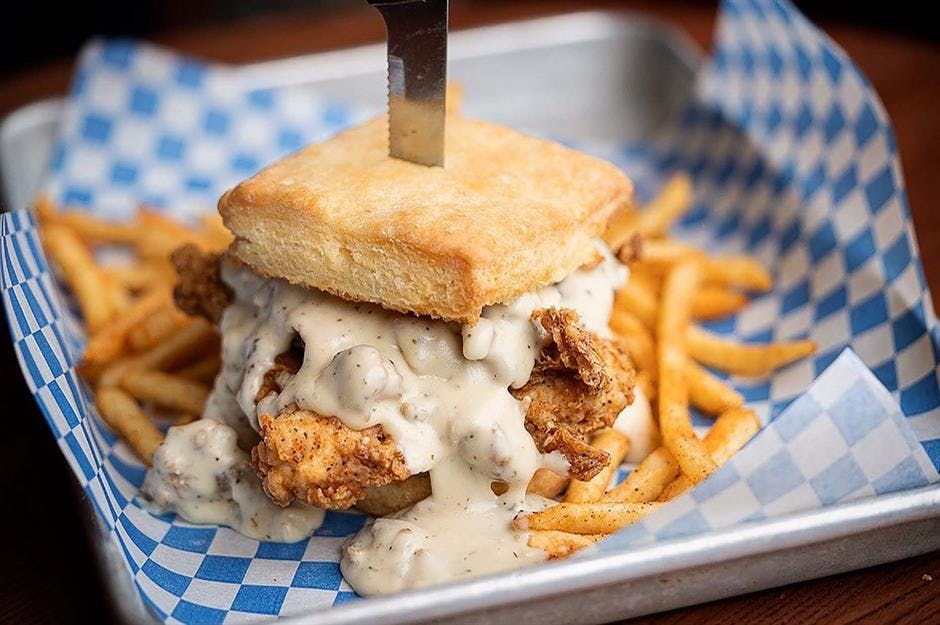 Screendoor Restaurant/Facebook
Let's be honest – there's nothing quite like comfort food, especially when it comes in the form of pancakes, waffles, fried chicken and burgers. From quaint retro diners and casual eateries to special occasion steakhouses and modern spots serving creative takes on the classics, here's where's best when you seek a little all-American comfort. Due to COVID-19, be sure to check local travel restrictions, including state travel advisories, and individual restaurant websites for dine-in, takeout and/or delivery options before you visit.
Alabama: Five Bar, various locations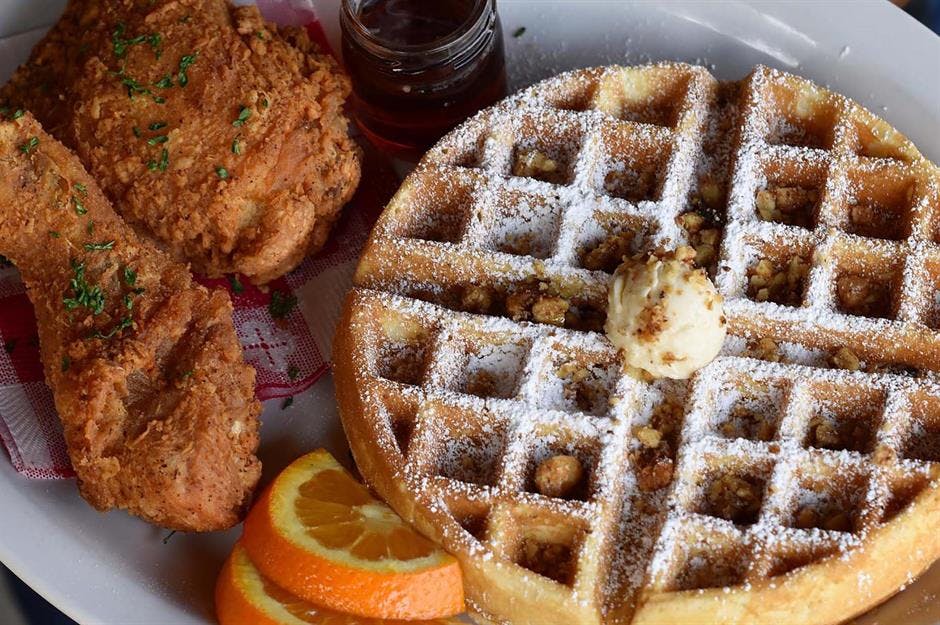 FIVE Birmingham/Facebook
With three Five Bar locations across Alabama, plus one in Athens, Georgia, this casual joint has a small but perfectly formed menu of all-American classics. The fried shrimp platter, bone-in pork chop with mac 'n' cheese, and rib-eye with mashed potatoes are just some of the reasons why diners love this spot. The brunch offering is also unmissable – think fluffy beignets, breakfast cheeseburger, and chicken and waffles with maple syrup.
Alaska: Chicken Shack, Anchorage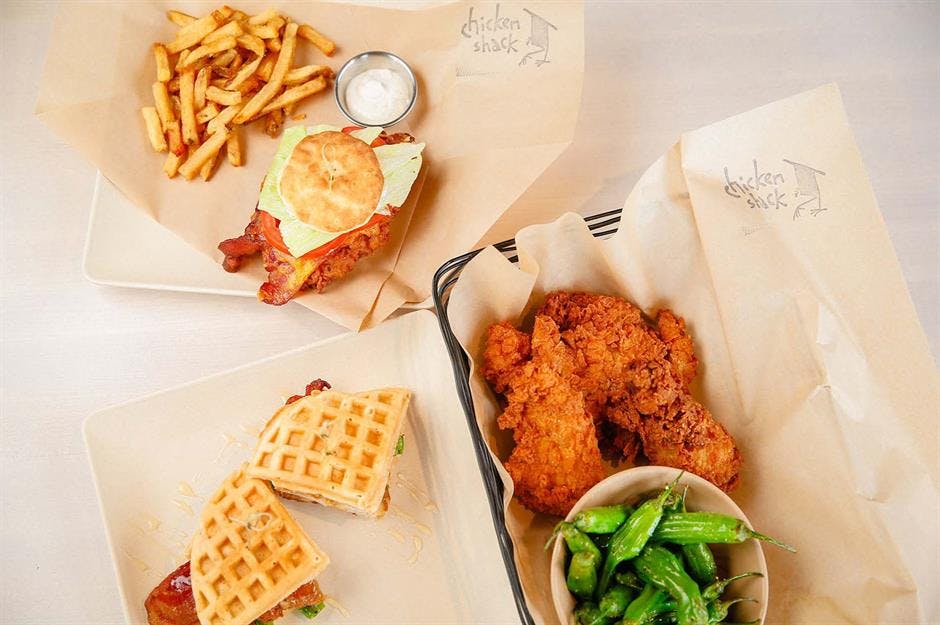 Chicken Shack/Facebook
"The American table reimagined" is the tagline of this modern restaurant that's so much more than just a chicken joint. The menu is filled with nostalgic comfort food, from mac 'n' cheese and chicken fried steak to blueberry waffles and bananas Foster. If you're feeling hungry, plump for the Full Shack which is four pieces of their famous crispy fried chicken with a choice of two sides – the house biscuit with honey butter is a crowd-pleaser.
Arizona: Rusconi's American Kitchen, Phoenix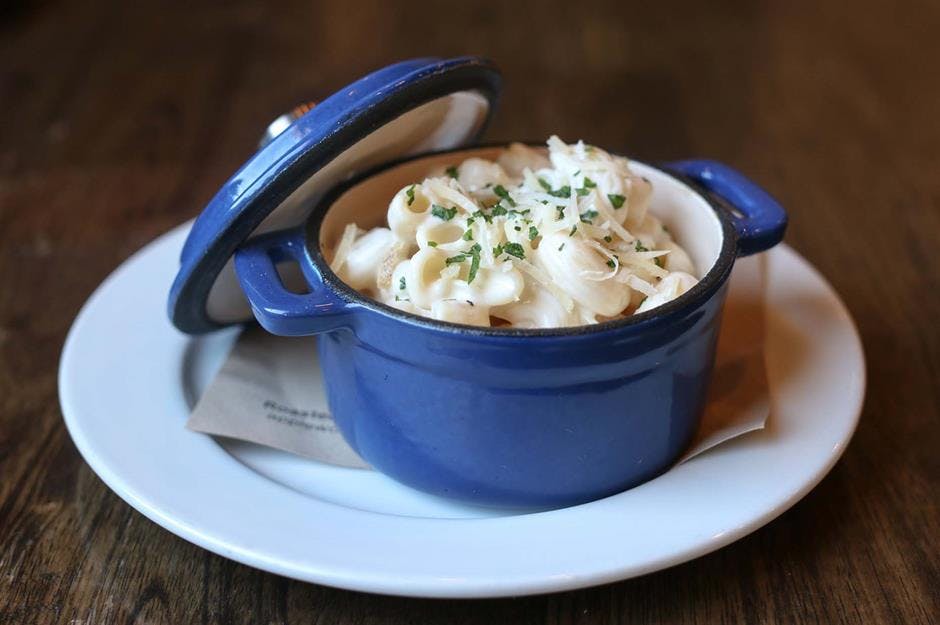 Rusconi's American Kitchen/Facebook
Just a glance at the menu at Rusconi's American Kitchen promises good things and you won't be left disappointed. A classy American-style restaurant, it focuses on refined American classics like roast chicken, beef tenderloin medallions and short rib. Opt for the indulgent white truffle mac 'n' cheese, made with white truffle cream, and you'll be positively blown away. Love pancakes? Check out their brunch menu for extra fluffy buttermilk pancakes smothered in pure maple syrup.
Arkansas: Louise, Bentonville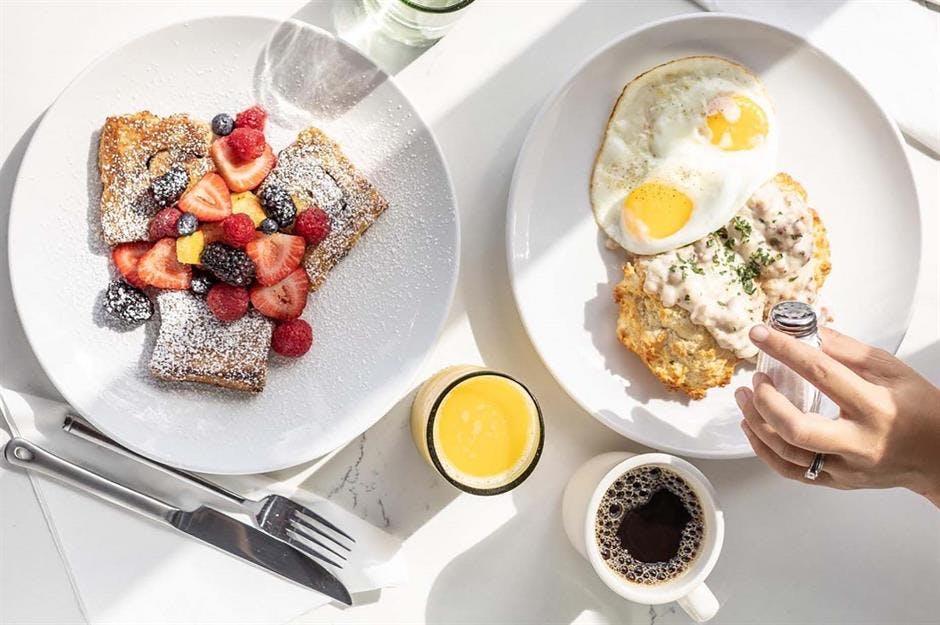 Louis at Thaden Field/Facebook
A chic all-day café, Louise gets its name from Iris "Louise" McPhetridge Thaden, an American aviator and proud Bentonville native. The popular menu boasts a large choice of down-to-earth Southern dishes with modern twists, like cornbread, chicken pot pie and meatloaf. There's also a good choice of classic sandwiches and special brunch dishes on the weekend menu.
California: Pann's, Los Angeles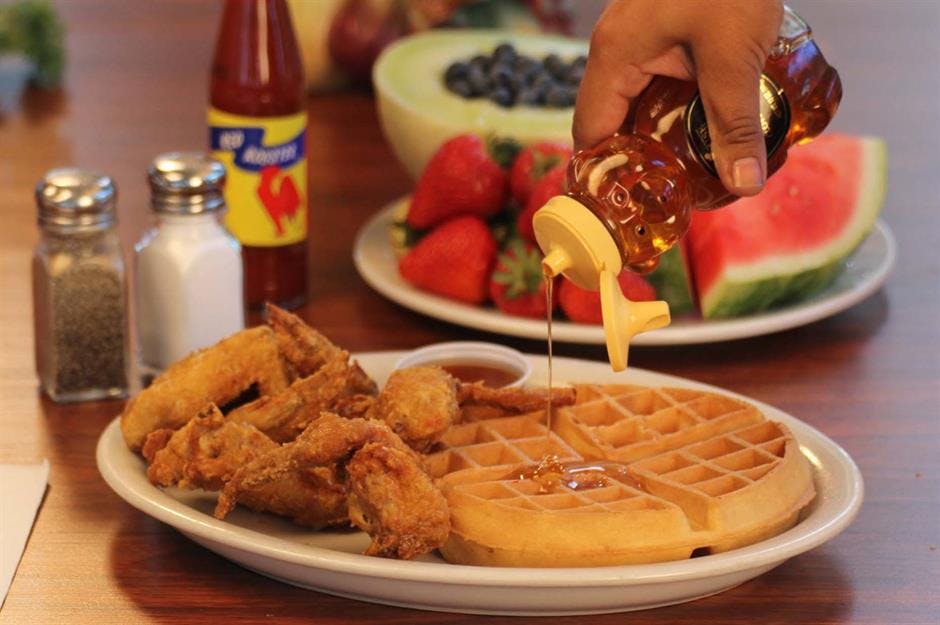 Pann's Restaurant/Facebook
Opened in 1958, this famed Inglewood diner is known for its preserved Googie architecture, with an irregular-shaped roof, distinctive neon sign and retro interior. On the menu are chicken wings, pancakes, French toast, hash browns and eggs but it's the house speciality of fried chicken and waffles that has diners coming back for more.
Colorado: Steuben's Uptown, Denver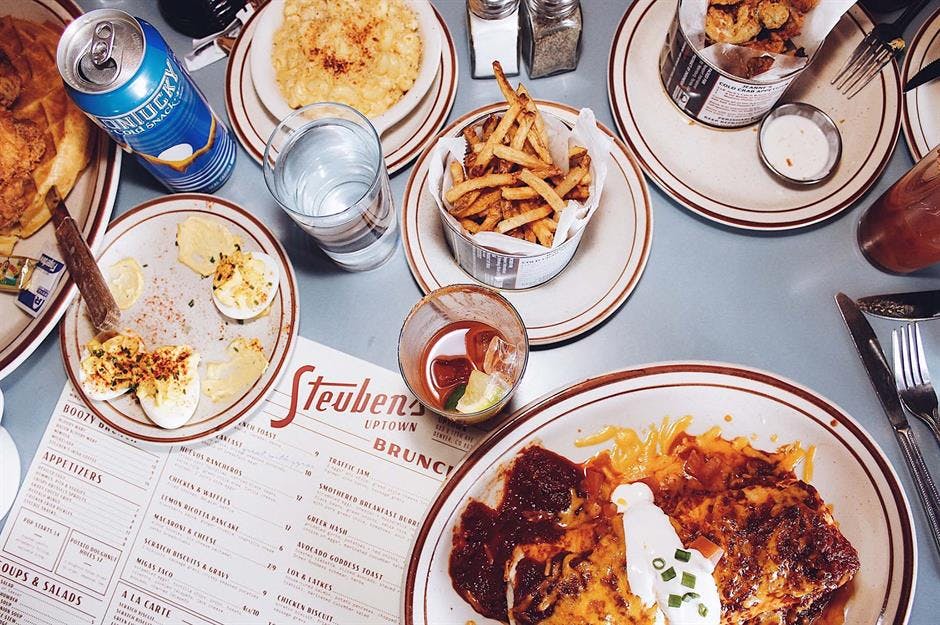 Steuben's Uptown/Facebook
We don't blame you if it's hard to pick what to order at Steuben's. Take your pick of the best comfort food America has to offer: there are chicken fried pickles and gravy cheese fries for appetizers; entrées like pot roast or meatloaf; and a mouthwatering selection of sandwiches too. Customers are big fans of the fried chicken, served with mashed potatoes, chicken gravy and biscuits. The devilled eggs get a thumbs up too.
Connecticut: Home Restaurant, Branford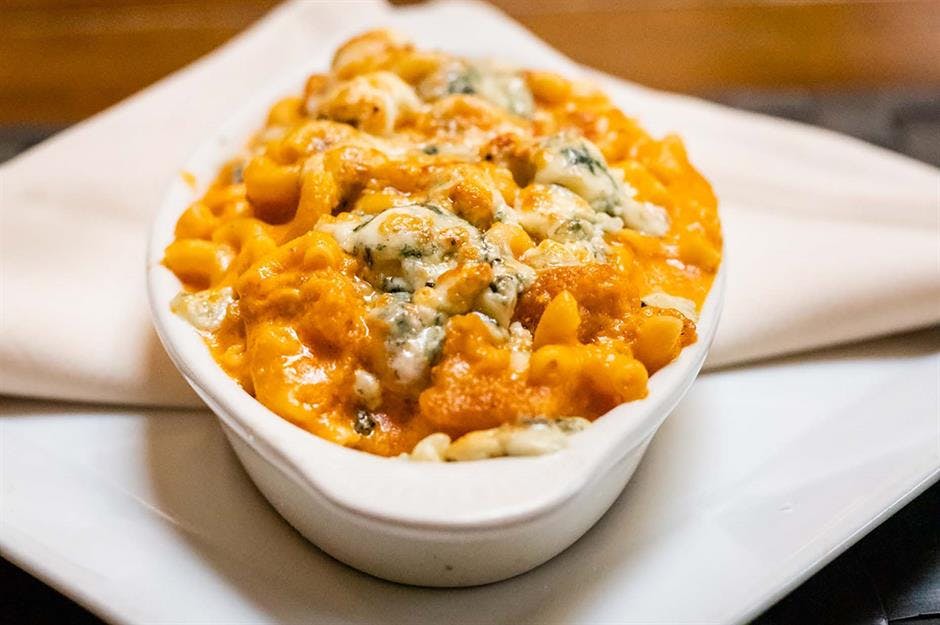 Home Restaurant of Branford, CT/Facebook
This aptly-named Connecticut restaurant serves a number of homely and ultra-comforting dishes, from tomato soup and egg rolls to smoky chicken wings and homemade meatballs in marinara sauce. But it's the mac 'n' cheese here that takes the spotlight. With eight different variations on the menu, you're sure to find something to whet your appetite, whether it's the chicken and waffle mac, shrimp scampi mac or the customer favourite – buffalo chicken mac topped with blue cheese.
Delaware: Walter's Steakhouse, Wilmington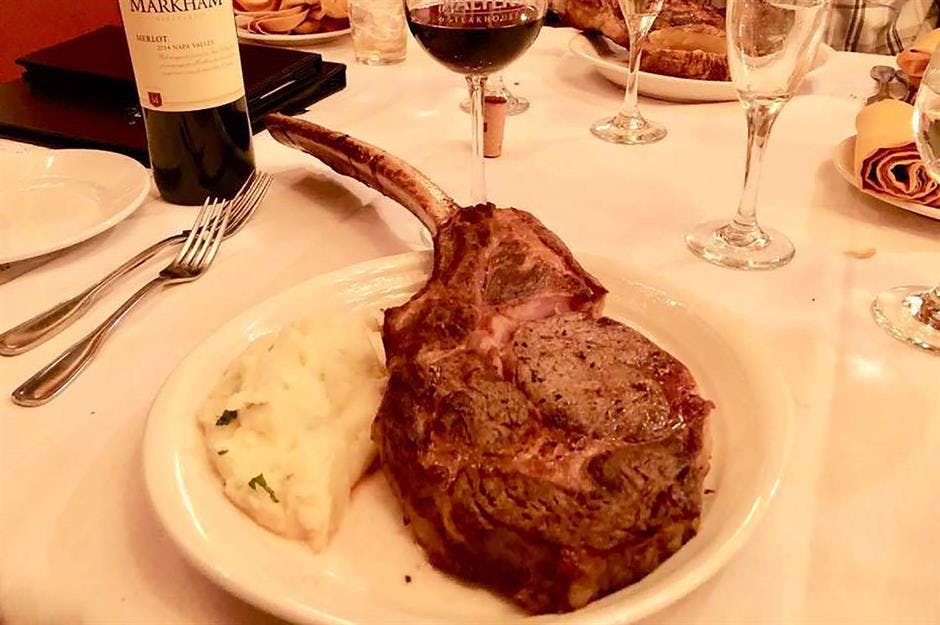 Walter's Steakhouse/Facebook
A top stop on Delaware's Culinary Trail, Walter's is an unmissable experience. It's a favourite among locals thanks to the massive cuts of prime rib and old-school steakhouse atmosphere, plus the servers are friendly and attentive which only adds to the charm. Friday is usually prime rib night – there's a special menu to choose from that includes all the customer favourites, from French onion soup to chocolate mousse cake and, of course, the prime rib.
Florida: Boca, various locations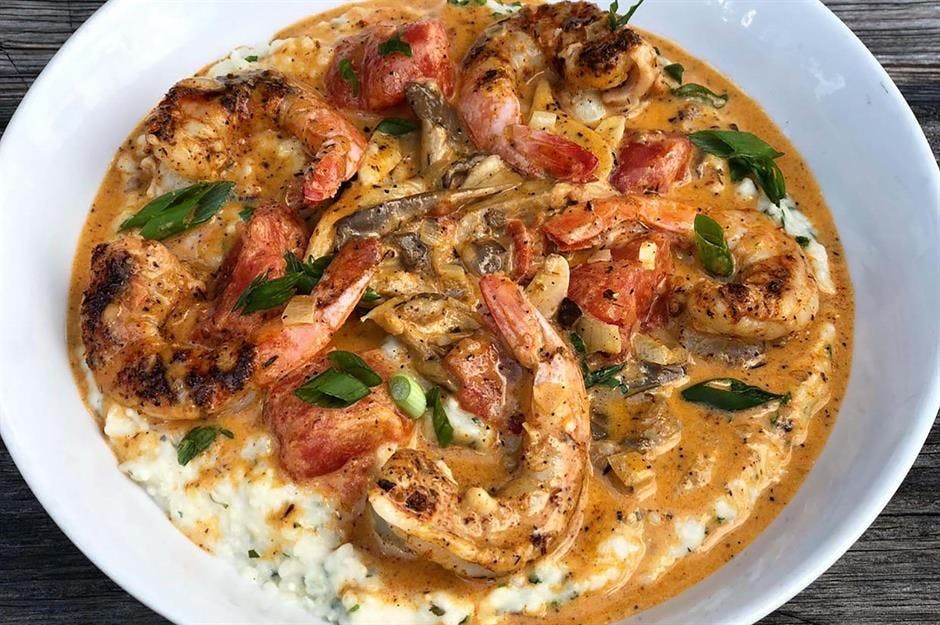 Boca Sarasota/Facebook
With two locations – in Sarasota and Orlando's Winter Park – Boca focuses on a farm-to-table concept, with lunch, brunch and dinner menus bursting with local and seasonal ingredients. There are fried green tomatoes or charred shishito peppers to start with, Florida pink shrimp and grits or smoked meatloaf for entrées, as well as a large selection of flatbreads and seafood dishes. Customers also praise the consistently friendly and attentive service.
Georgia: Mrs. Wilkes' Dining Room, Savannah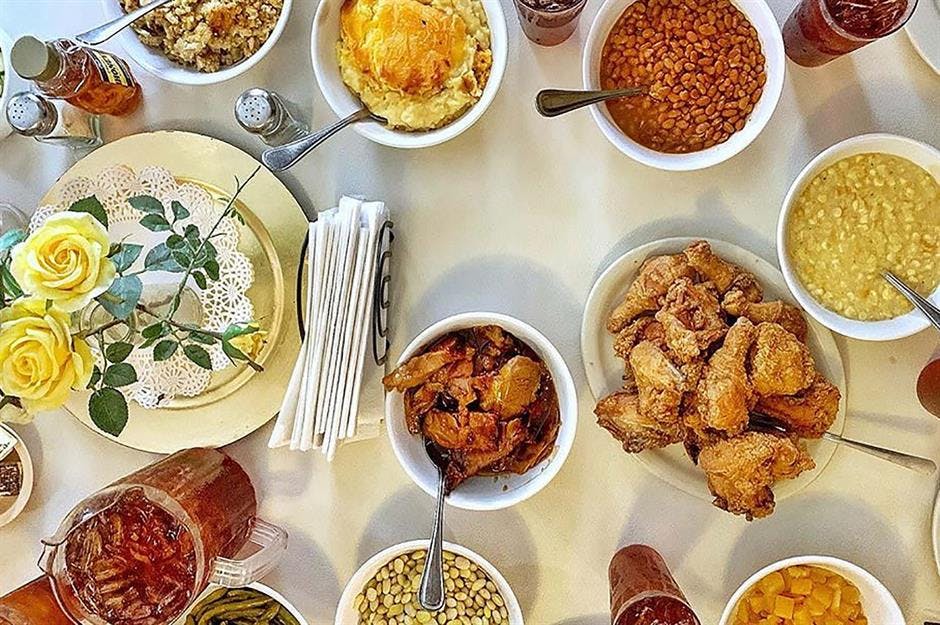 Mrs Wilkes' Dining Room/Facebook
Come lunchtime, queues typically wind out the door of this Savannah soul food spot, run by the same family since 1943. The food comes in belly-busting helpings: choose from warming Southern classics like fried chicken, meatloaf, candied yams, black-eyed peas and mac 'n' cheese.
Discover the most historic restaurant in your state
Hawaii: 12th Ave Grill, Honolulu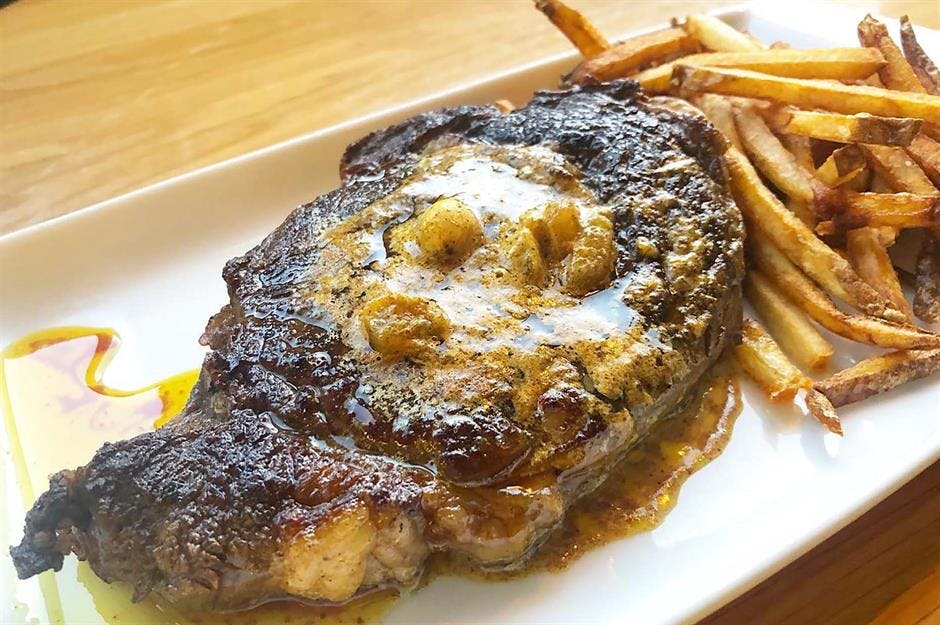 12th Ave Grill & DeliCafe/Facebook
Serving an enticing mix of American classics with an Italian touch and Hawaiian flare, 12th Ave Grill treats its diners to food that's beautifully presented but tastes like a comforting hug. The menu sees pork chop paired with horseradish mashed potatoes, the mac 'n' cheese is upgraded with lobster and a selection of burgers are served with the fluffiest yet crispiest house fries. And when it comes to dessert, well, you simply can't go wrong with a Hawaiian speciality – chocolate haupia pie.
Idaho: Honey Eatery And Social Club, Coeur d'Alene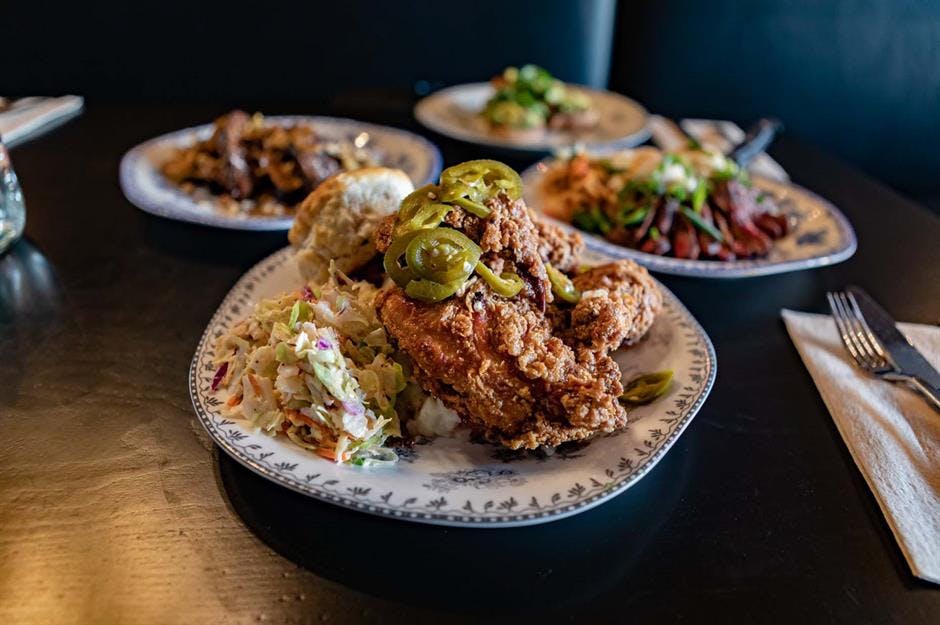 Honey Eatery And Social Club/Facebook
Honey Eatery and Social Club's lengthy craft cocktail list and hearty modern American dishes made with local produce have been drawing in the crowds ever since it opened. Diners can tuck into a four-cheese mac 'n' cheese, pretzels with beer cheese and pepper dip, or a towering beef burger with melting beer Cheddar and bacon jam. Afterwards, the social club downstairs is usually open for a drink and live music at the weekend.
Illinois: Little Goat Diner, Chicago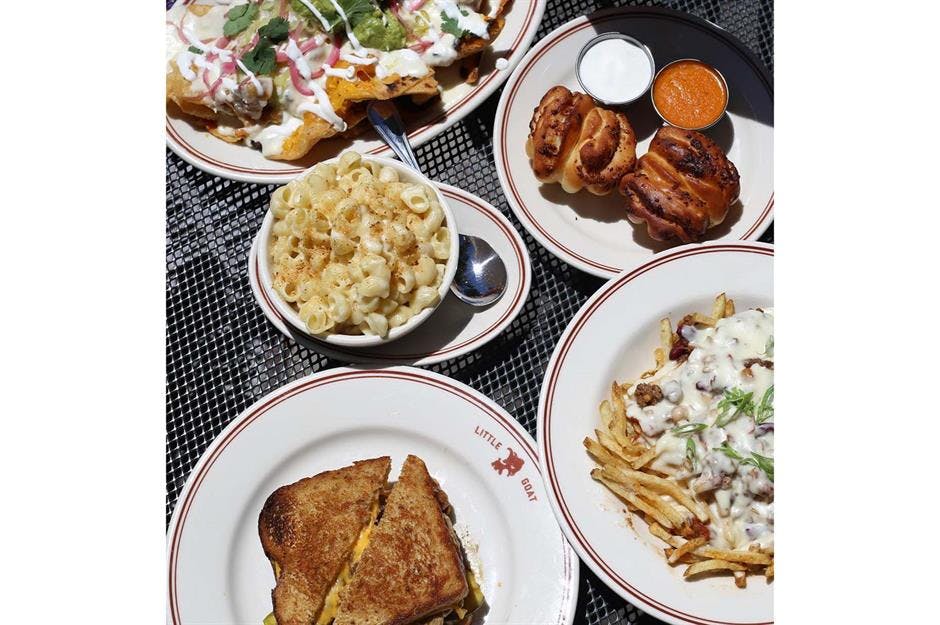 Little Goat/Facebook
Run by James Beard award-winning chef Stephanie Izard, Little Goat Diner is a must-try. The contemporary décor is full of nods to classic diners with retro booths and spinning chrome barstools, while the all-day menu is full of crowd-pleasers. There are all-day breakfasts like French toast with eggs, crispy chicken and sweet onion brioche, classic sandwiches and tasty burgers, as well as hash browns, cheesy grits and mac 'n' cheese.
Indiana: The Eagle, Indianapolis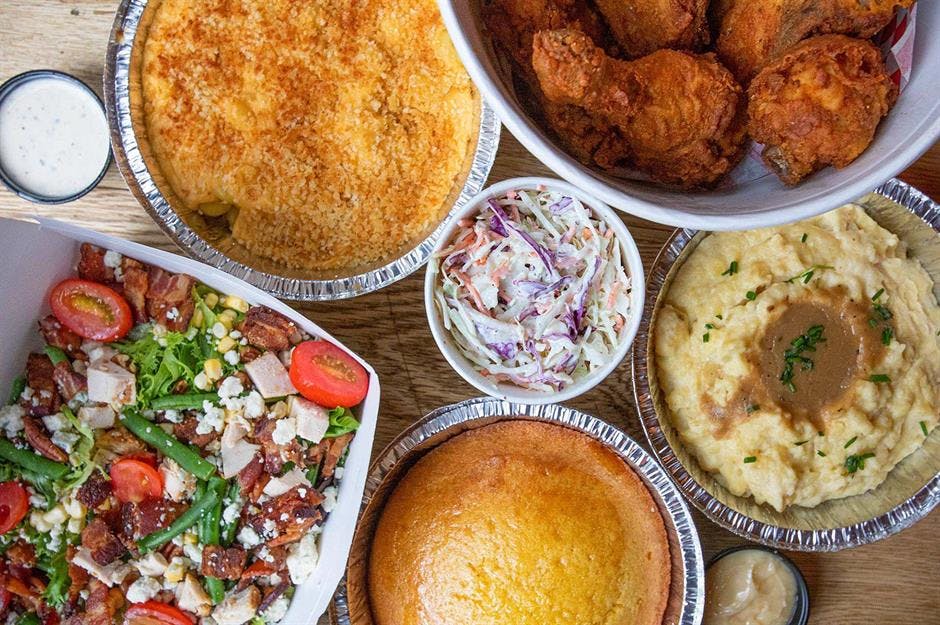 The Eagle/Facebook
All about fried chicken, The Eagle pairs the comfort food dish with the ultimate selection of all-American sides. There's fries, of course, as well as skillet cornbread with maple butter, succotash, horseradish mashed potatoes and an irresistible mac 'n' cheese made with five different cheeses. There's also a selection of fried chicken sandwiches and a few salads too. If that doesn't whet your appetite, how about hush puppies and brown sugar bacon with cayenne for snacks?
Love this? Follow our Pinterest page for more food inspiration
Iowa: Pullman Bar & Diner, Iowa City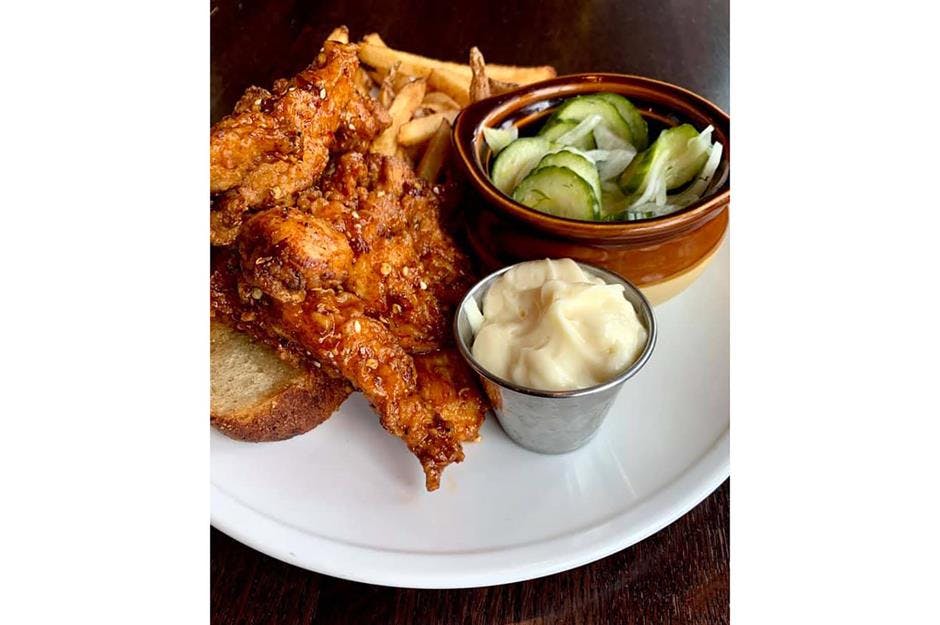 Pullman Bar & Diner/Facebook
Often named among the best brunch spots in Iowa City, Pullman Bar & Diner is very chic. Gold lettering outside, exposed brick walls and the shiny white marble bar top all contribute to the elegant décor. That's until you get to the menu which is filled with messy, lick-your-fingers classics like buffalo wings, triple-patty burgers and fried chicken with house-fermented hot sauce. Another customer favourite, the Mo Burger combines two beef patties, Cheddar, bacon jam, avocado and chipotle aioli into one, irresistible bite.
Kansas: The Anchor, Wichita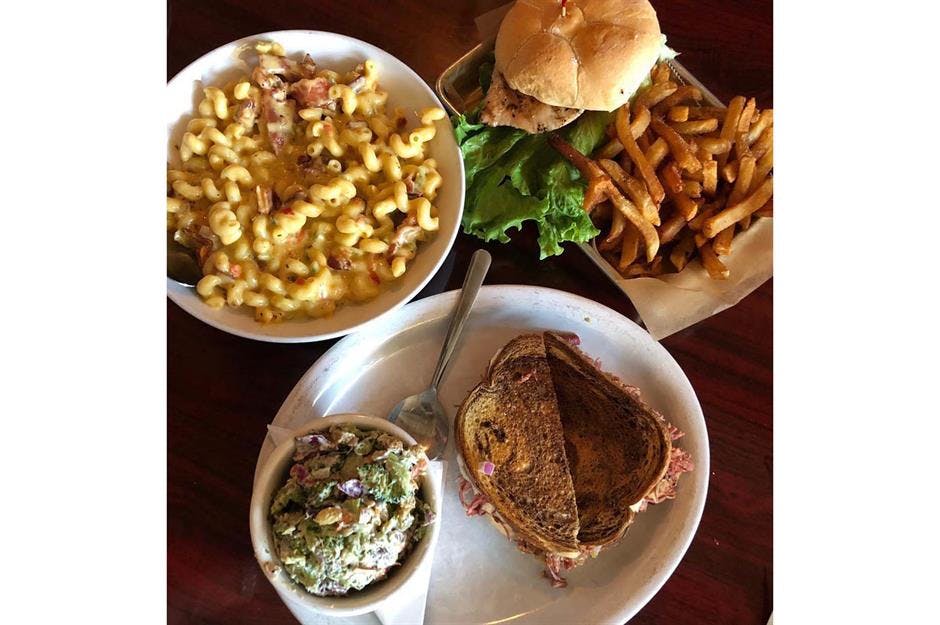 The Anchor/Facebook
For a relaxed vibe with gastropub-style food, try The Anchor, a locally-owned bar and grill in downtown Wichita. As well as having a range of craft beers on offer, it also serves excellent burgers, mac 'n' cheese (with chicken, pulled pork or mushrooms) and classic appetizers like fried pickles, hot wings and truffle fries. Go hot with Burn Baby Burn, a Black Angus burger which comes piled high with fries, chilli, queso and jalapeños on homemade jalapeño cornbread – it gets the thumbs up from guests.
Kentucky: Greyhound Tavern, Fort Mitchell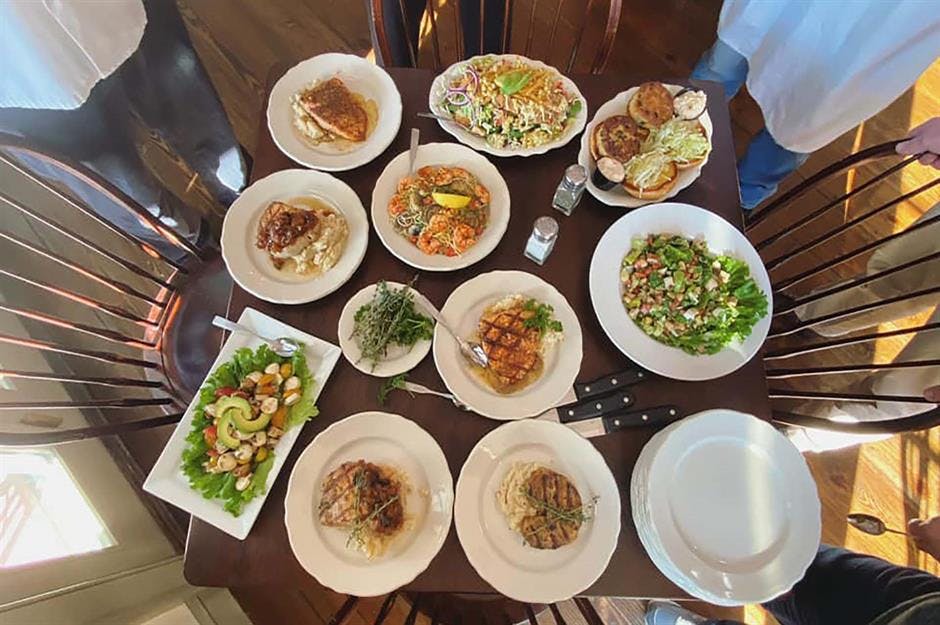 Greyhound Tavern/Facebook
A timeless Southern restaurant, the Greyhound Tavern charms diners with its historic setting that'll take you right back to the 1920s, when it was first opened as Dixie Tea Room. Today, the restaurant offers comforting and familiar fuss-free dishes that keep the diners coming back. The fried chicken is the star of the show, but you shouldn't miss out on the thick-sliced breaded sweet onions either. Saved room for dessert? Good, because their homemade bread pudding is a Greyhound Tavern staple.
Now check out the best sandwich shop in every state
Louisiana: Dickie Brennan's Steakhouse, New Orleans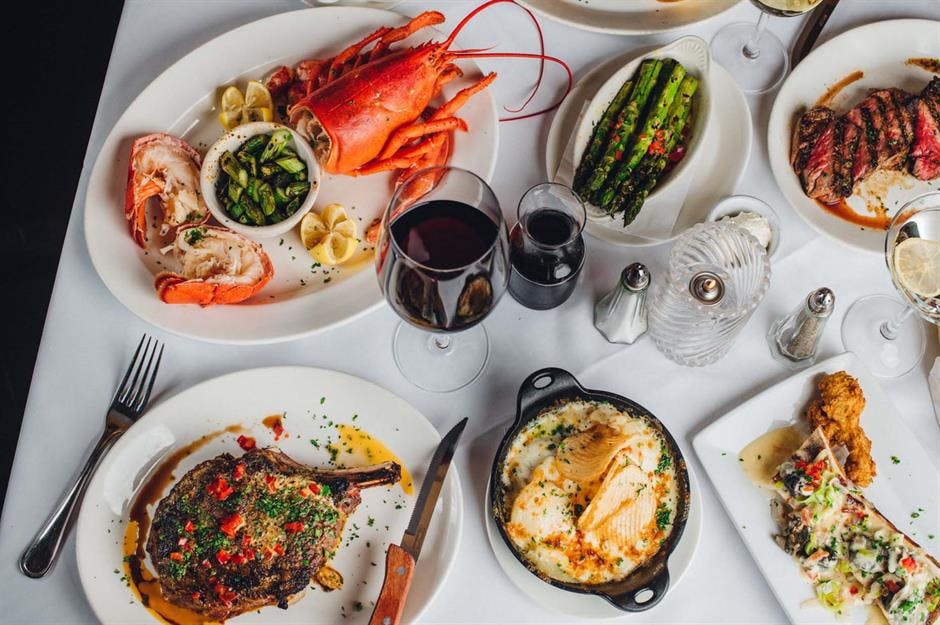 Dickie Brennan's Steakhouse/Facebook
Located in the heart of the French Quarter, Dickie's has remained a New Orleans hot spot for more than two decades. A traditional American steakhouse at heart, it adds its own unique New Orleans touch to the dishes coming out of the kitchen. There's the local favourite turtle soup to start with while the prime strip is Creole-seasoned and seared in a cast iron skillet. Potatoes come as fries or in a gratin, and there's a classic selection of sauces and steakhouse sides.
Maine: Bob's Clam Hut, Kittery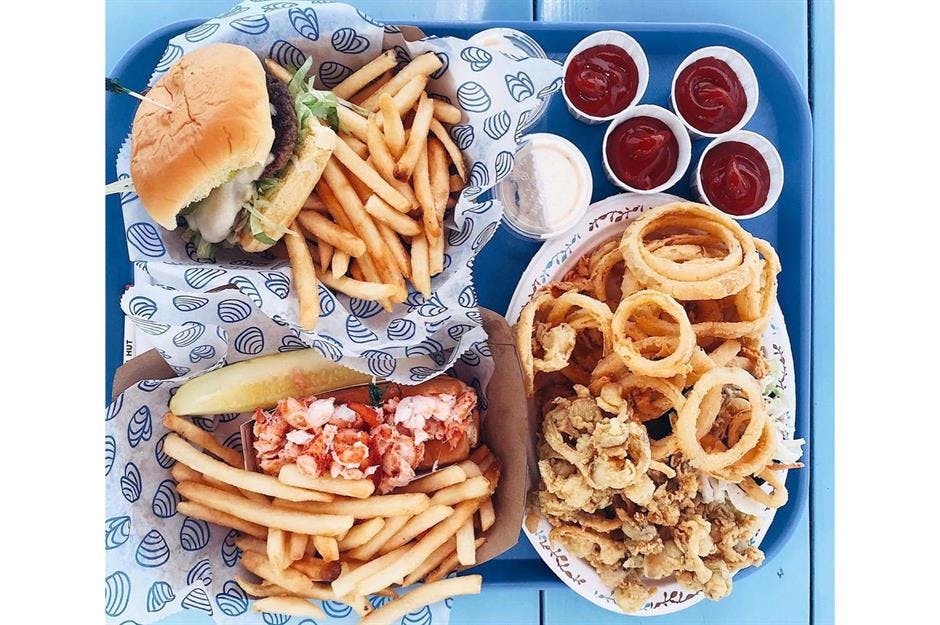 Bob's Clam Hut/Facebook
Bob's Clam Hut was established way back in 1956 in Kittery, a seaside town in Maine. It has been renowned for its fresh, local seafood ever since. Choose a basket with fried shrimp, lobster tails or haddock. Or there are rolls with lobster, scallops, shrimp and more, which come with fries and a pickle.
Maryland: The Chasseur, Baltimore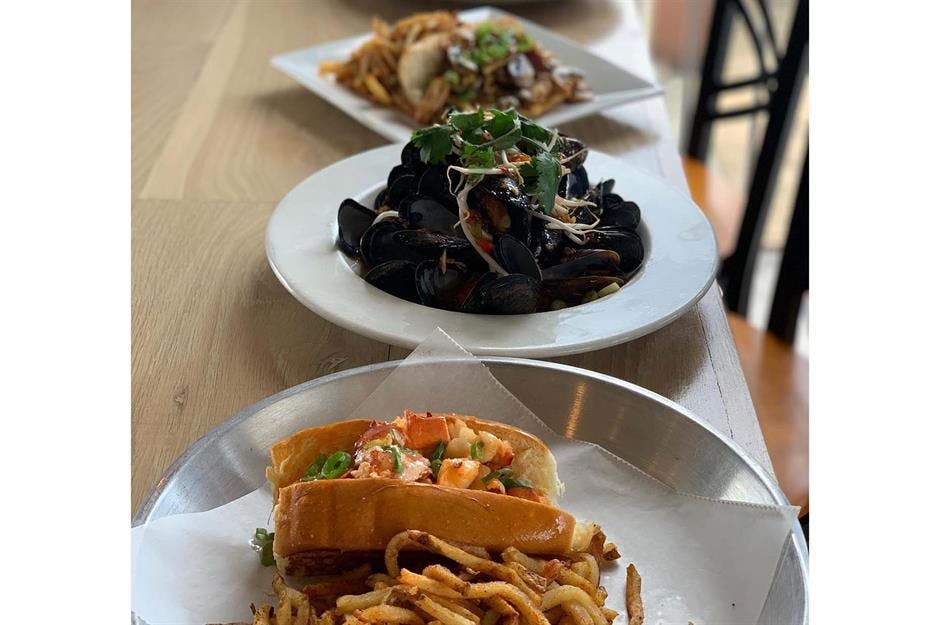 The Chasseur/Facebook
In true Maryland fashion, the menu here is seafood-centric, but you'll still find plenty of American classics with a modern twist. The self-proclaimed new American restaurant, The Chasseur dazzles with tater tots served with Maryland crab dip, jumbo crab pretzel and an enticing selection of mac 'n' cheese dishes, served with either flat iron steak and blue cheese, fried buffalo chicken or crab. The brunch offering is equally as exciting with a breakfast take on nachos and tacos, as well as Chesapeake Benedict with jumbo lump crab cake and Old Bay hollandaise.
Massachusetts: Maddi's Cookery and TapHouse, Worcester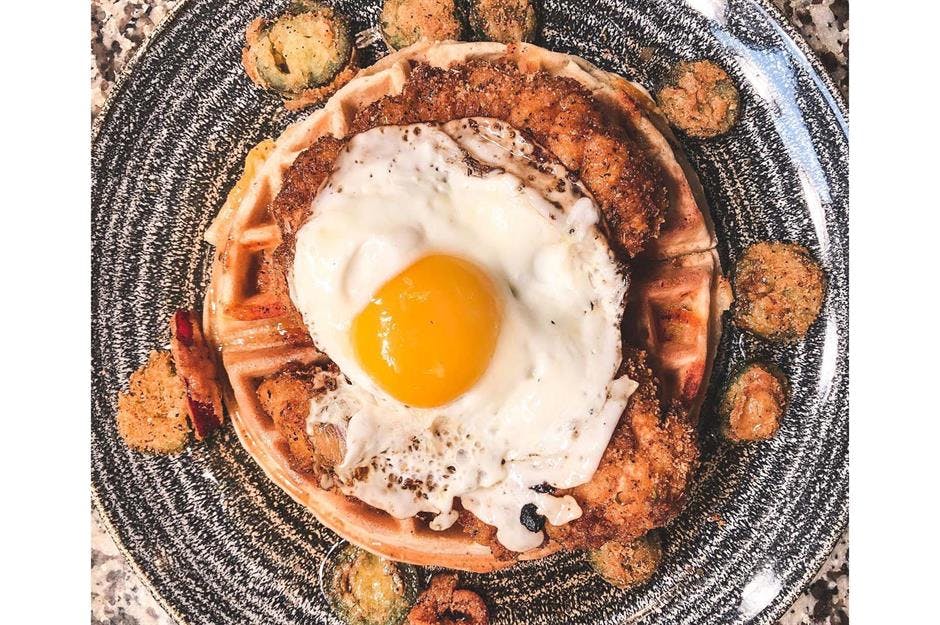 Maddi's Cookery and TapHouse/Facebook
When it comes to Massachusetts, Boston restaurants usually hog the limelight. But the central city of Worcester has a burgeoning culinary scene too. In the kitchen of Maddi's Cookery and Taphouse you'll find established Massachusetts chef Adam Hicks, who dishes up tasty pub-style meals such as mac 'n' cheese with steak tips and caramelised onions, and fried chicken and waffles with jalapeño-infused maple syrup. There's also a large selection of burgers, sandwiches and paninis, as well as interesting takes on classic salads.
Michigan: Slows Bar BQ, Detroit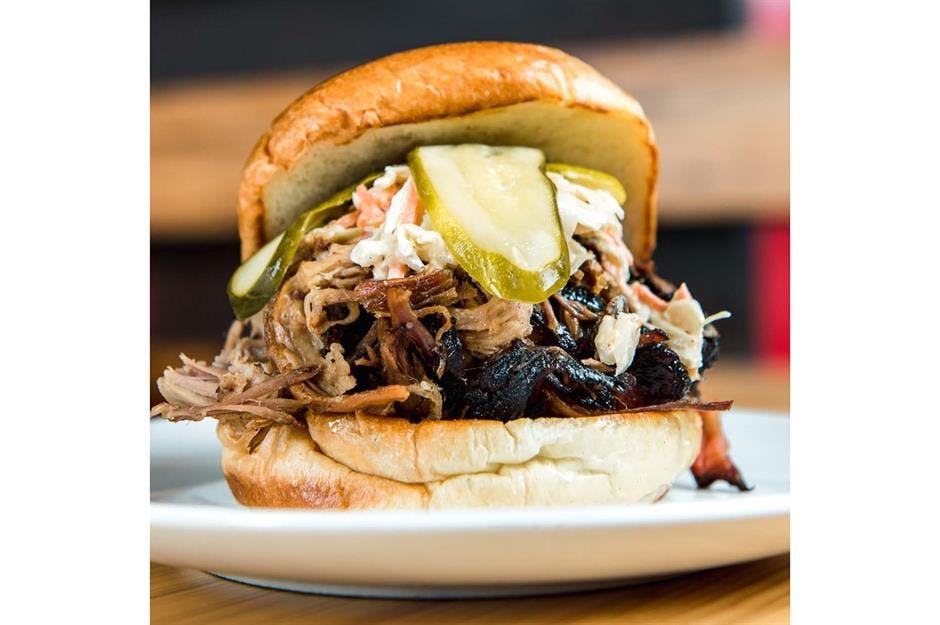 SLOWS BAR BQ/Facebook
The choice at this casual BBQ joint in Detroit is simple. First, pick your meat – there's pulled pork, beef brisket or BBQ chicken to choose from – then add a side like waffle fries, pit-smoked beans or mac 'n' cheese, and finish with a hot fudge brownie or carrot cake. There's also an enticing specials menu with bacon fried rice and cheese fries as well as a good selection of burgers – try the signature Reason burger with smoked pulled pork, coleslaw and dill pickles.
Minnesota: Hell's Kitchen, Minneapolis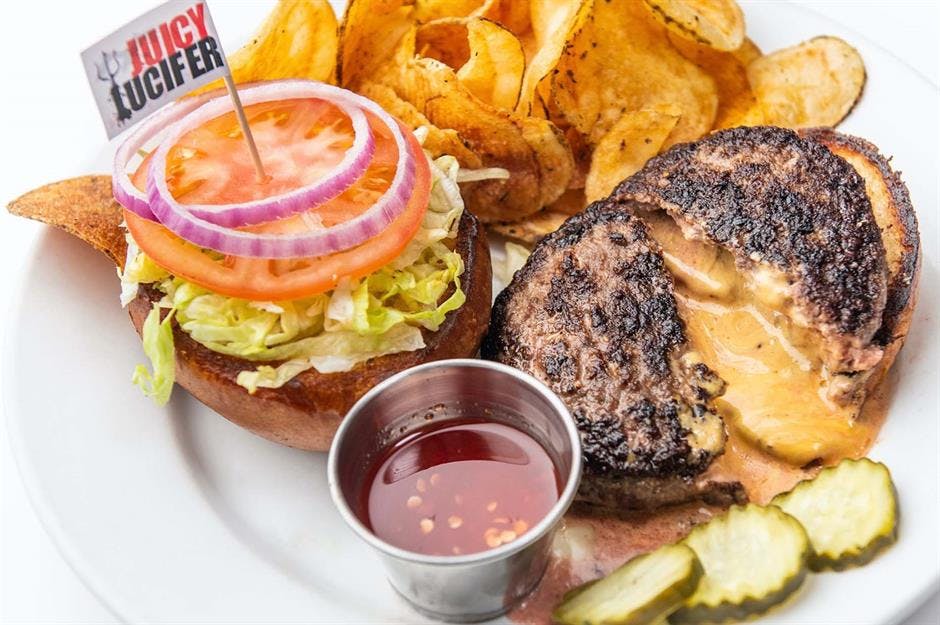 Hell's Kitchen-Minneapolis/Facebook
Hell's Kitchen is kind of a big deal in Minneapolis. Famous for its sausage bread (made with toasted walnuts, black currants, black coffee, a ton of spices and, of course, sausage) on the breakfast menu, there's more to love on the all-day menu too. You'll want to save space for mac 'n' cheese, St Louis-style BBQ ribs and their take on a Juicy Lucy burger – Juicy Lucifer. If you've got a sweet tooth, don't miss the award-winning lemon ricotta hotcakes.
Mississippi: The Pig & Pint, Jackson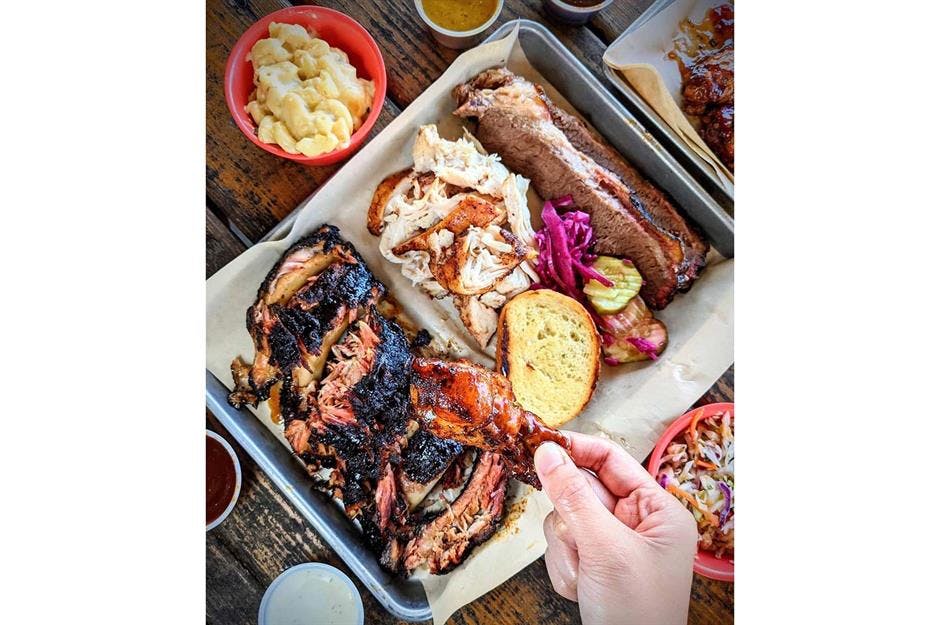 The Pig & Pint/Facebook
Jackson's The Pig & Pint does exactly what it says on the tin by serving some of the best BBQ meals around, plus an impressive selection of craft beers. From mouthwatering BBQ tacos to sandwiches and BBQ plates piled high with pulled pork, brisket or smoked chicken, there's lots of tasty food to love here. A smoked chicken Caesar is great for something lighter while those desperate for dessert will love the bananas Foster banana pudding.
Find out where to find the best burger and fries in every state
Missouri: Lambert's Cafe, various locations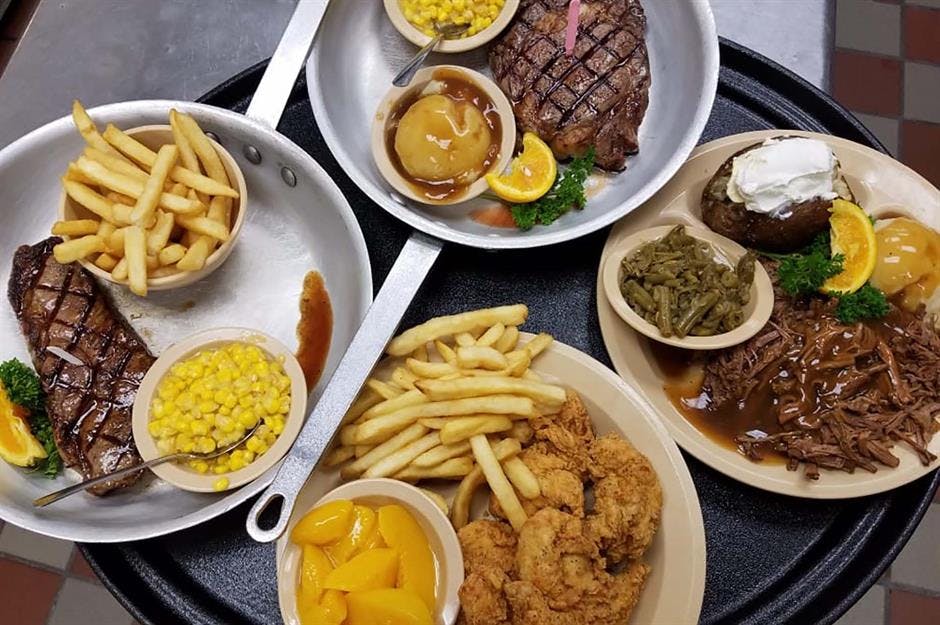 Lambert's Cafe/Facebook
This homely restaurant chain – which has two Missouri locations in Ozark and Sikeston, and a third in Foley, Alabama – opened in 1942. Today Lambert's Cafe still serves comforting plates of roasted meats with generous sides of vegetables and potatoes. Customers are particularly fond of the chicken fried steak with mashed potatoes and gravy. "Home of the throwed rolls", Lambert's is also known for their bread rolls which are literally thrown on the tables by the waiters.
Montana: Black Iron Grill & Rotisserie, Miles City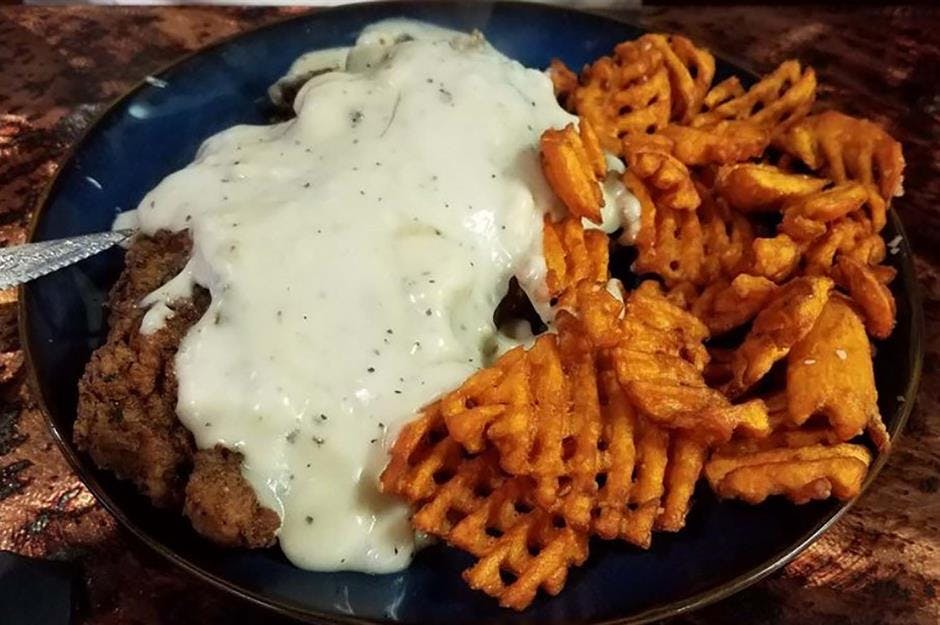 Black Iron Grill & Rotisserie/Facebook
A casual eatery committed to serving the best produce from local ranchers and purveyors, Black Iron Grill & Rotisserie has several historic features, like the beams reclaimed from the Old Milwaukee Roundhouse. Besides the architecture, the menu is all about home comforts – think burgers and sandwiches, steaks, mac 'n' cheese and chicken fried steak. The rotisserie chicken in particular gets rave reviews from customers.
Nebraska: Little Ted's Pub & Grill, Nebraska City
Little Ted's Pub & Grill/Facebook
For a casual spot that's big on tasty, unfussy food, head straight for Little Ted's Pub & Grill in Nebraska City. The menu features a good selection of burgers and sandwiches, as well as classic mains like grilled chicken dinner, New York strip and sirloin. Get wings or loaded nachos to start with, pickle chips to snack on and complete the meal with some fries and onion rings.
Nevada: Big B's Texas BBQ, Henderson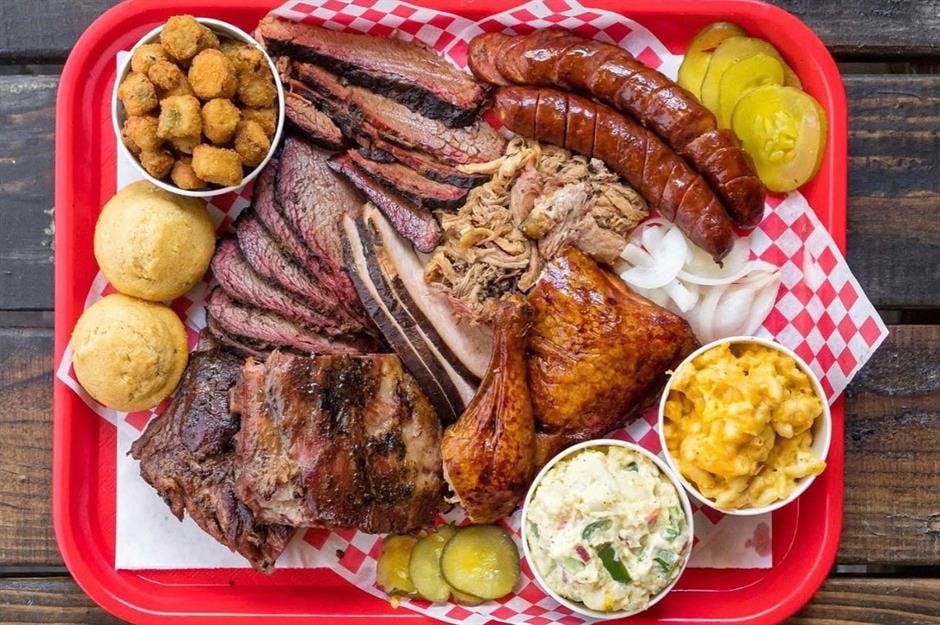 Big B's Texas BBQ/Facebook
Guests love the food at Big B's Texas BBQ, a traditional Texas-style barbecue restaurant. It serves insanely good brisket, meaty beef ribs, tri-tips (from the bottom of the sirloin) with a beautiful smoky pink ring, very saucy pulled pork and hot links. In terms of sides, you'll never go wrong with creamed corn, BBQ beans or potato salad.
New Hampshire: Red Arrow Diner, Manchester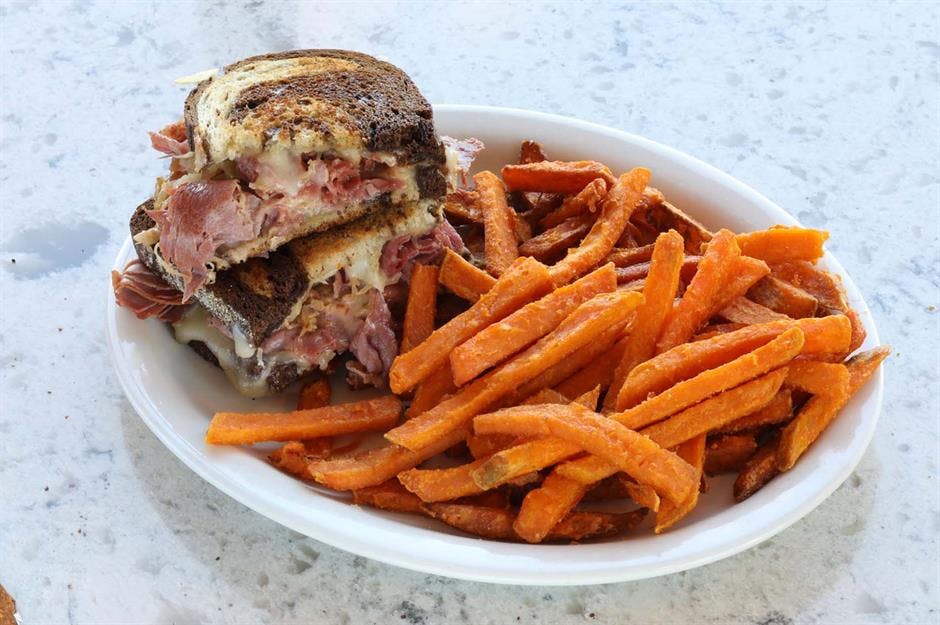 Red Arrow Diner/Facebook
A 24-hour diner, the Red Arrow has been around since 1922 and has three more outposts, but the Manchester location is the original. It has kept its vintage look with red brick walls, red paint and a tall neon red sign. The inside is much the same with booths and red bar stools while the menu has all the comfort food you could ever wish for. Customers love the pork pie with gravy – it's a speciality here – but you'll also do well by choosing chicken fried steak or meatloaf.
New Jersey: Tops Diner, East Newark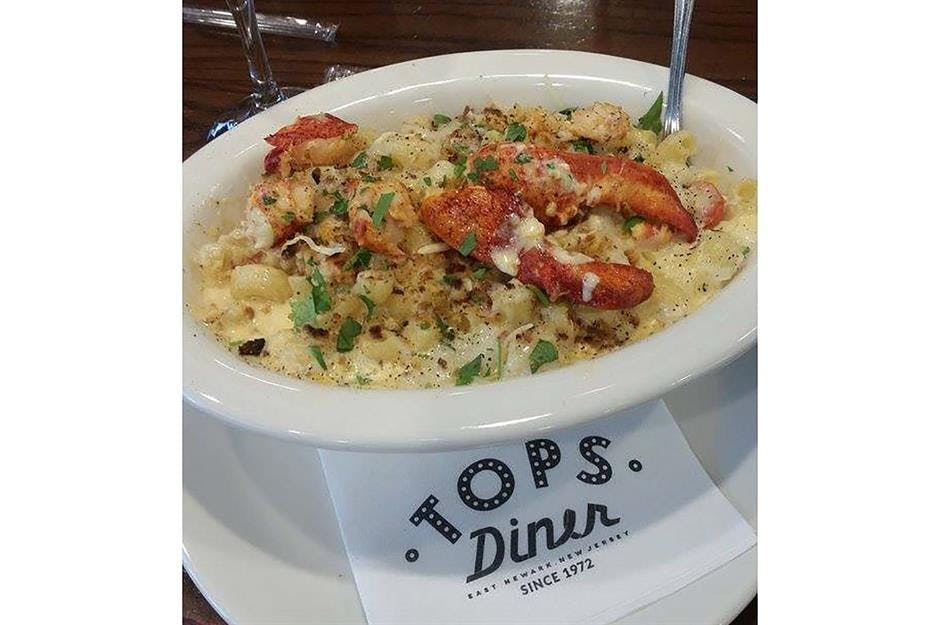 Tops Diner/Facebook
Consistently named among the most loved in the country, Tops Diner is a New Jersey icon. Serving absolutely huge portions of all-American classics from the early hours to very late at night, the diner's food is simply faultless. Top menu picks include lobster mac 'n' cheese, French toast, buttermilk pancakes, and chicken and waffles for those brave enough to take on the huge plate.
These are the best waffle restaurants in every state
New Mexico: Nexus Brewery & Restaurant, Albuquerque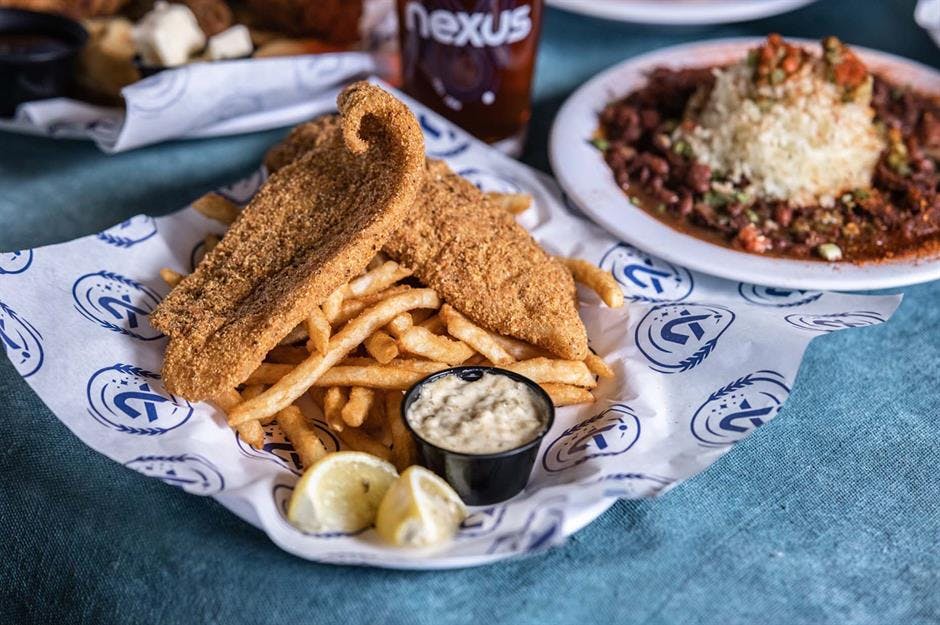 Nexus Brewery/Facebook
Unfussy and cool, Nexus Brewery dishes up some really good, unpretentious food in two locations in Albuquerque. The restaurant consistently receives rave reviews for the tasty food on its menu, which has a certain New Mexican flare. There's nachos covered in red or green chile, Cajun chicken chicharrones and a soul food menu with chicken and waffles, hot chicken and fried fish, as well as red beans and rice with hot sausage.
New York: Rocco Steakhouse, New York City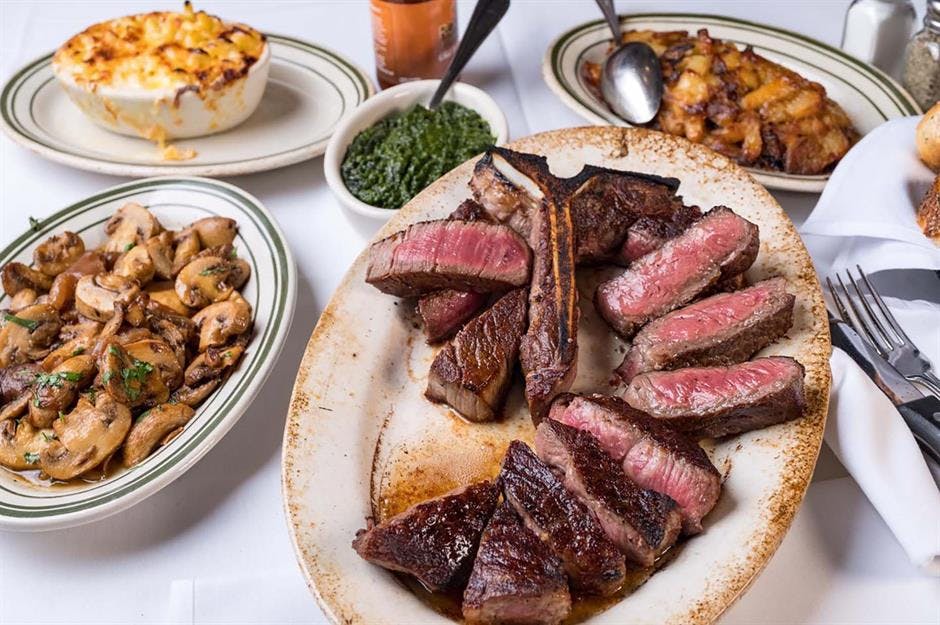 Rocco Steakhouse/Facebook
This exclusive steakhouse is normally a treat to visit and food here is classic and faultlessly executed. Though on the pricey side, you can get first-rate porterhouse, rib-eye, sirloin, bone-in filet mignon and tomahawk steaks, all perfectly cooked and with tremendous flavour. Customers also praise the crab cakes on the appetizers menu (you'll also find lobster cocktail and sizzling Canadian bacon), while creamed spinach, mac 'n' cheese and jumbo baked potato are among the best sides to order.
North Carolina: Haberdish, Charlotte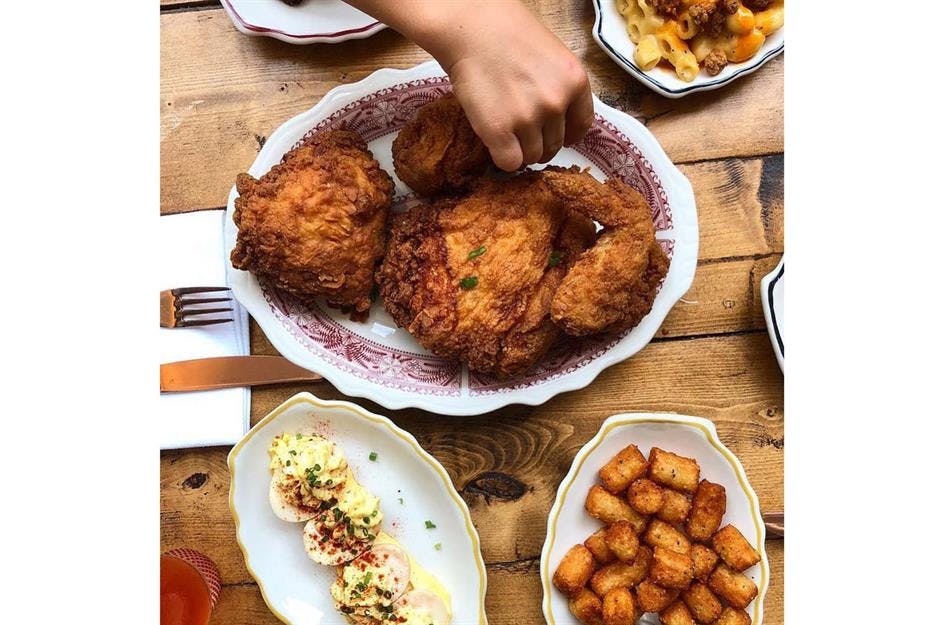 Haberdish/Facebook
Haberdish is a quirky brunch and dinner spot dedicated to Southern classics, and choosing a dish here isn't easy. The menu is filled with crowd-pleasers like hush puppies, fried chicken and tater tots. Apart from the juicy and perfectly crispy chicken, customers particularly love the sweet potato dumplings, served with brown butter, sage and Parmesan, as well as the smoked devilled eggs with chives and paprika. If ordering from the weekend brunch menu, don't miss out on the chicken biscuit sandwich.
North Dakota: Kroll's Diner, various locations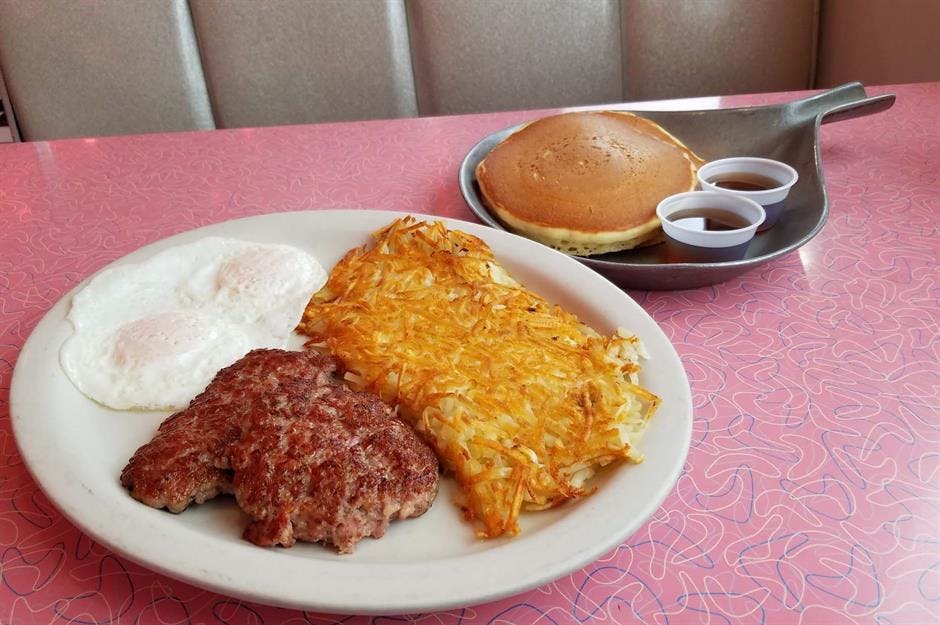 Kroll's Diner – Fargo/Facebook
Kroll's has five 1950s-style venues in Minot, Bismarck, Fargo and Mandan, which are well-known throughout North Dakota. Its unique appeal is that it serves German specialities alongside American diner food, so it's possible to order knoephla soup (creamy dumpling soup) and cabbage rolls (cooked cabbage leaf parcels with a meat filling) to go with your country fried steak with sausage gravy. There's also a good selection of burgers, sandwiches and all-day breakfasts.
Ohio: Golden Lamb, Lebanon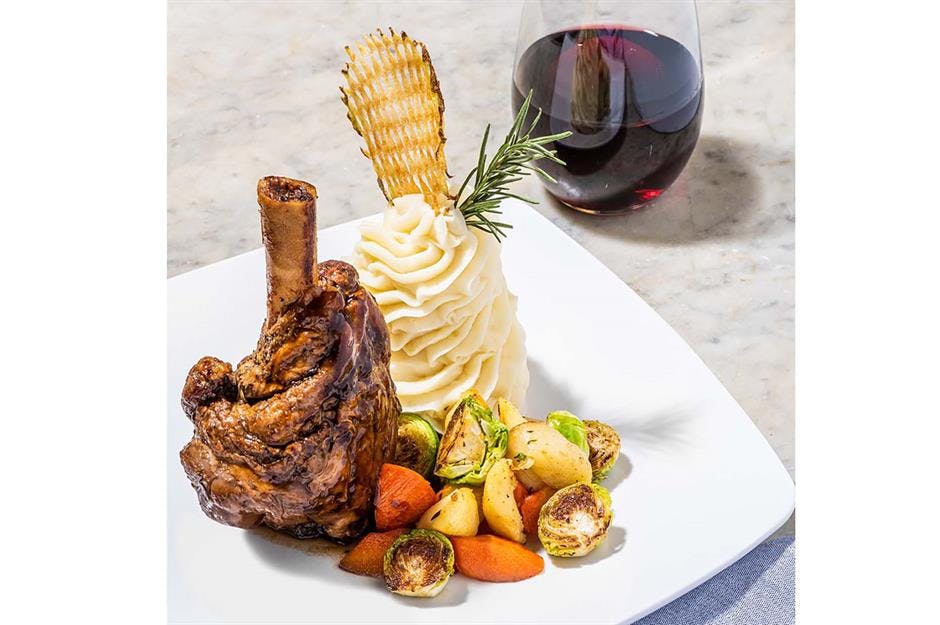 The Golden Lamb/Facebook
Built in 1803, this historic building is home to the Golden Lamb – purportedly Ohio's longest continually operated business that remains a popular dinner destination. Serving comfort food such as burgers, fried chicken, shrimp and ribs, alongside an impressive range of regional beers, the Golden Lamb is particularly praised for its hickory-roasted prime rib that's served with leeks, bacon, aged Cheddar, battered onion rings and rosemary jus.
Here's where to get the best mac 'n' cheese in every state
Oklahoma: Redrock Canyon Grill, various locations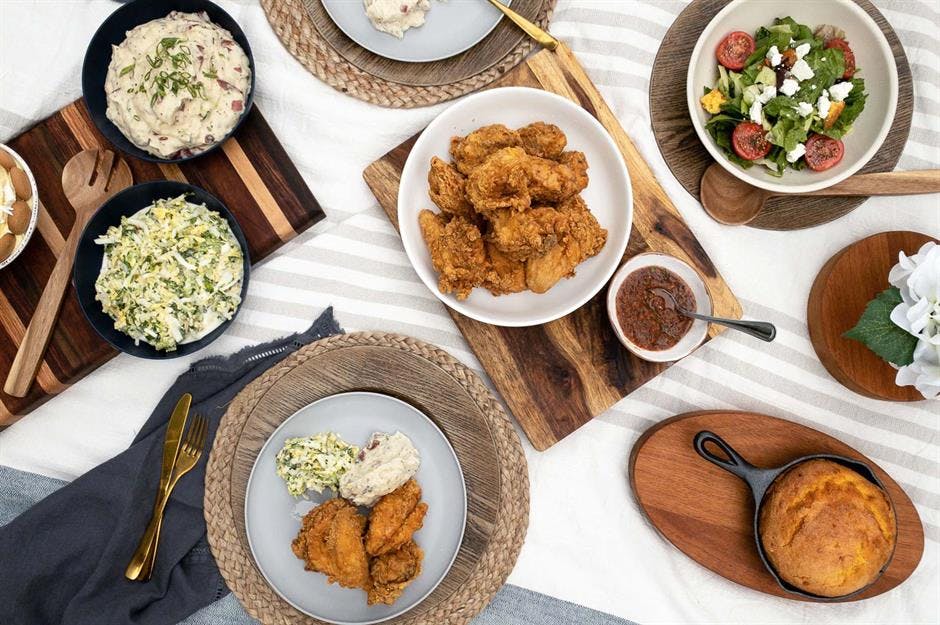 Redrock Canyon Grill (OKC)/Facebook
A small chain with outposts in Kansas, Texas and Oklahoma, this homely restaurant consistently receives rave reviews for the down-to-earth food that's incredibly tasty. The rotisserie chicken with mashed red potatoes and sweet glazed carrots is a top choice but you'll also find classics like iron skillet cornbread, bone-in pork chops and a selection of steaks. There's a children's menu too, as well as weekend brunch featuring huevos rancheros and French toast.
Oregon: Screen Door, Portland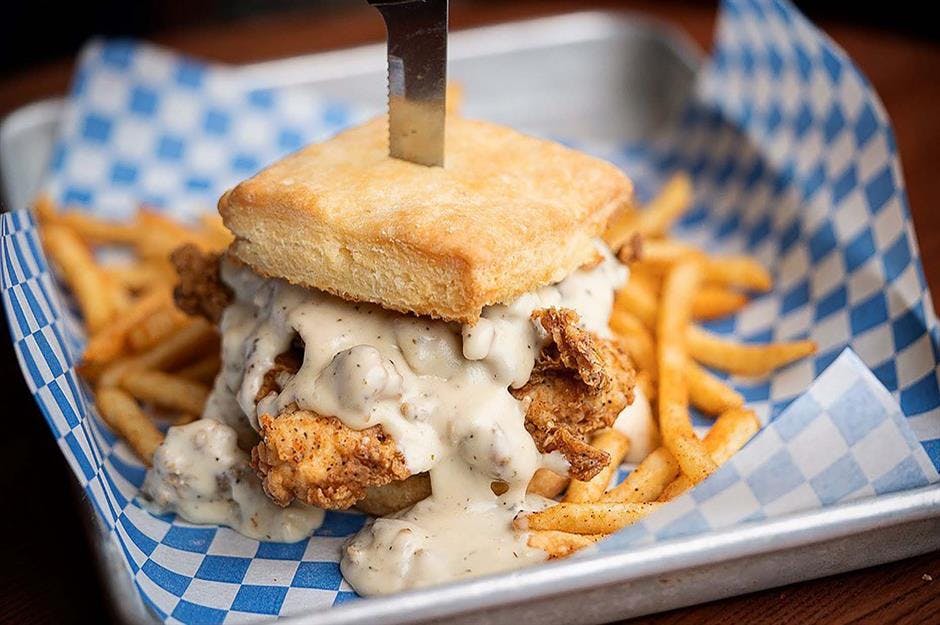 Screendoor Restaurant/Facebook
Portland's Screen Door focuses on Southern soul food and has received countless accolades since it opened in 2006. Famous for its incredibly tender fried chicken and praline bacon, other menu highlights include crispy fried oysters, breakfast shrimp and grits, and buttermilk biscuits and gravy. For those with a sweet tooth there's French toast, pancakes and waffles.
Pennsylvania: Bud & Marilyn's, Philadelphia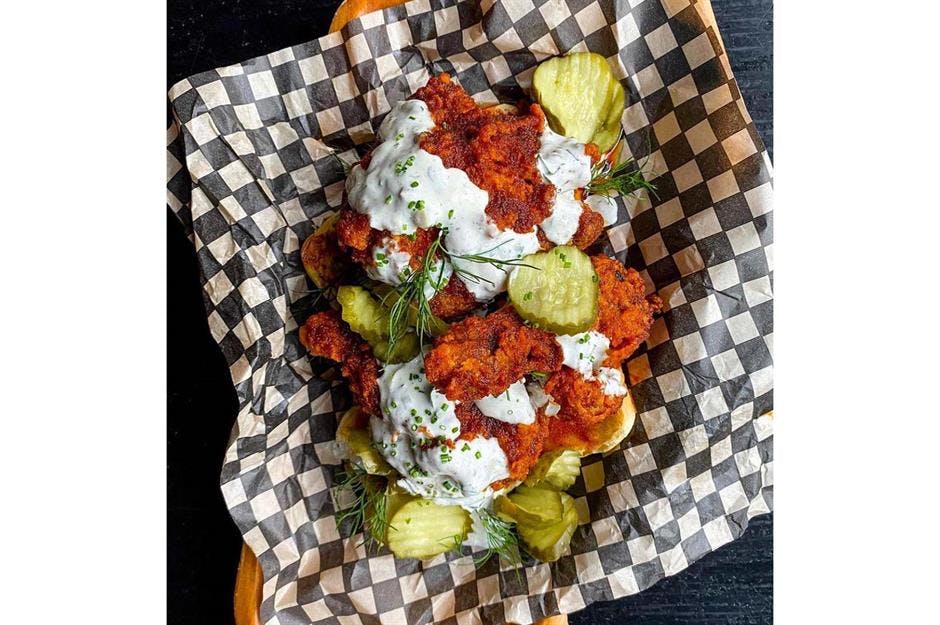 Bud & Marilyn's/Facebook
A wonderfully retro spot in Philadelphia's Midtown Village, Bud & Marilyn's is a celebration of American classics and the menu focuses on simple and delicious food cooked perfectly. Customers are big fans of the fried chicken sandwich that comes with Cheddar, pickle brine slaw and charred spring onion ranch in a potato roll, and the shrimp po boy hot buns. Satisfy your sweet craving with the funfetti cake – a vanilla cake with white buttercream frosting, strawberries and milk crumble.
Rhode Island: Chelo's Hometown Bar & Grille, various locations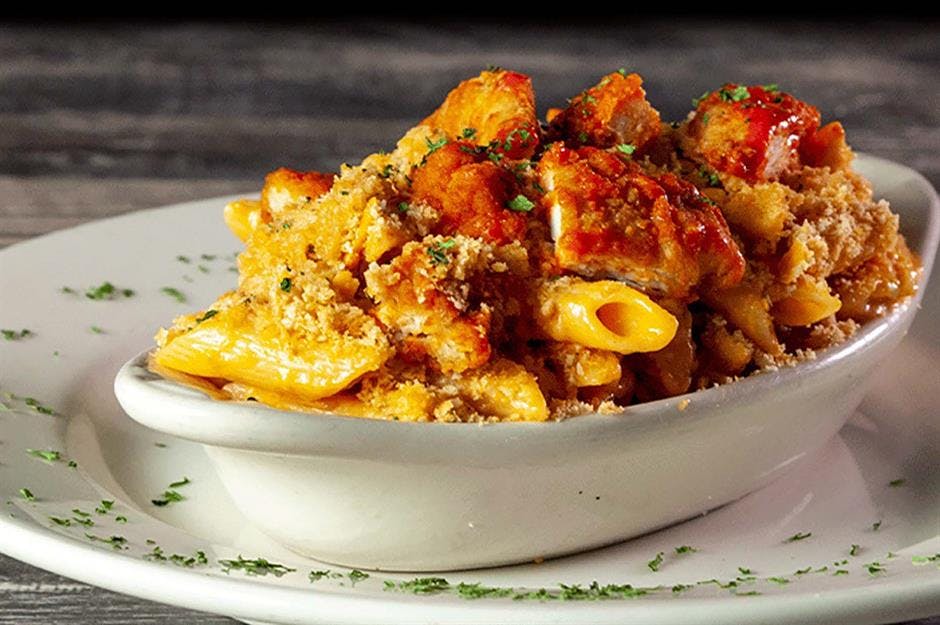 Chelo's Hometown Bar & Grille/Facebook
The state's largest family-run chain, Chelo's Hometown Bar & Grille was founded in 1955 and has a handful of locations throughout Rhode Island. The much-loved mini-chain's ethos is all about a homely atmosphere and traditional, well-prepared comfort food, like juicy prime rib, tender steak tips and mac 'n' cheese with fried buffalo chicken. And as this is New England, there are lobster rolls, seafood chowder, and fish and chips to gorge on too.
South Carolina: Millers All Day, Charleston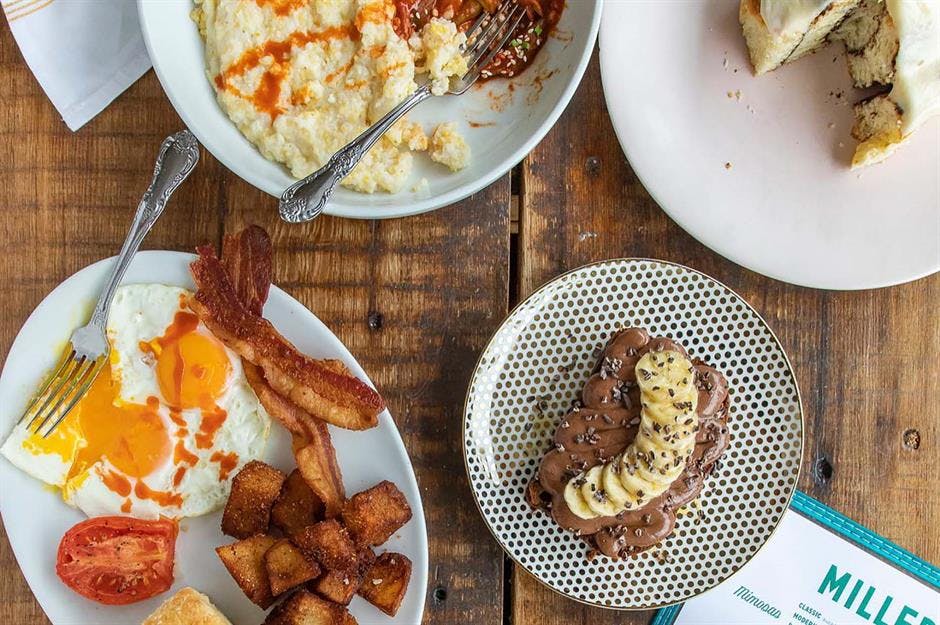 Millers All Day/Facebook
With trendy and elegant plates that are still homely, Millers All Day is a Charleston favourite. Serving an all-day menu, there's a generous offering of unfussy dishes like sandwiches, salads, biscuits and all-day brunch plates. Customers love their biscuits with a wide variety of toppings, like fried chicken and mustard or country ham and fig jam, as well as the Millers Plate – bacon, two eggs, grits or fries and a biscuit. For a bit more indulgence, opt for lobster toast on house-made brioche.
South Dakota: The Millstone Family Restaurants, Rapid City and Spearfish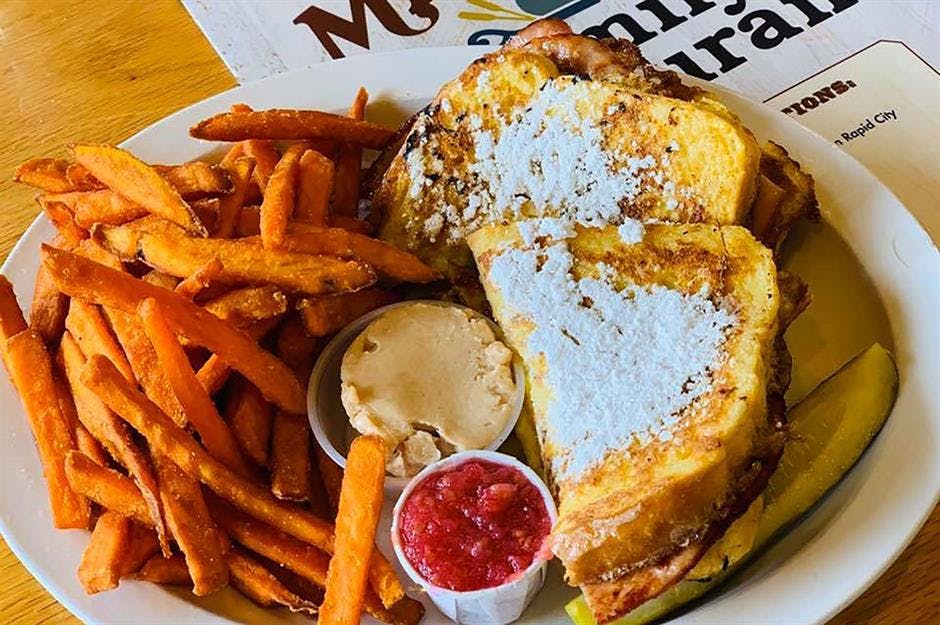 Millstone Family Restaurants/Facebook
You'll find this charming family restaurant, with two Rapid City locations and one in Spearfish, serving comforting and perfectly cooked classic meals. The small chain is family-owned and eating here really does feel like being at a beloved relative's home – one who can cook perfect meatloaf and whip up the best breakfasts in town. Diners praise the fluffy French toast, generous steak and eggs as well as the grilled walleye fillet.
Did you know these surprising facts about America's most popular dishes?
Tennessee: The Stillery, Nashville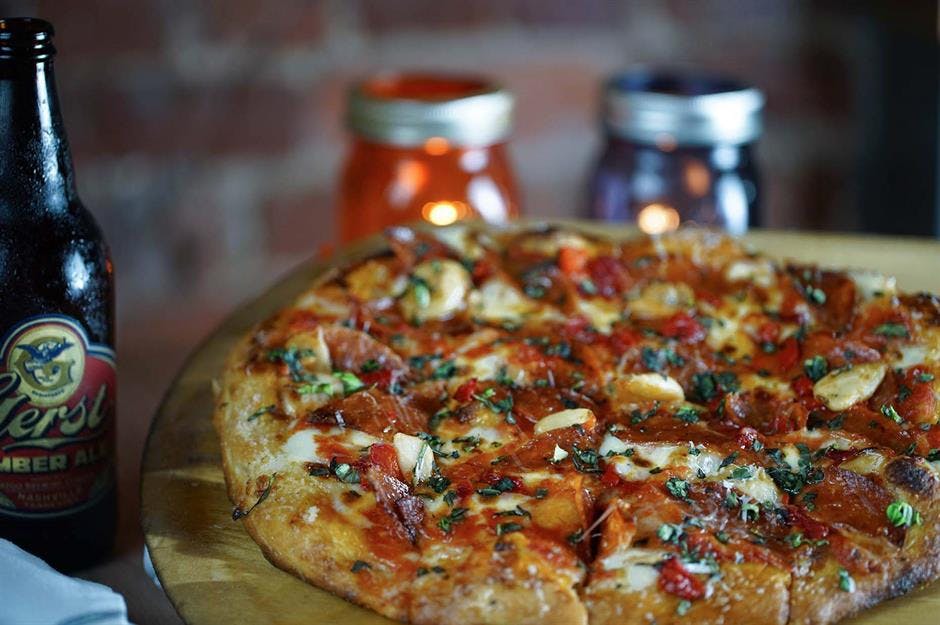 The Stillery/Facebook
This modern cocktail, pizza and burger bar has more than one dish on the menu that will catch your eye. Both locations in Nashville serve classics with a twist. You'll find creative takes like jalapeño poppers served inside-out and wrapped in crispy wontons, cheesesteak pizza and the Pretzel Burger with spicy cheese, bacon and caramelised onions on a patty in a house-made pretzel. The weekend brunch menu is equally mouthwatering with pull-apart monkey bread, biscuits and gravy, and chicken and waffles all on the menu.
Texas: West Texas Chophouse, El Paso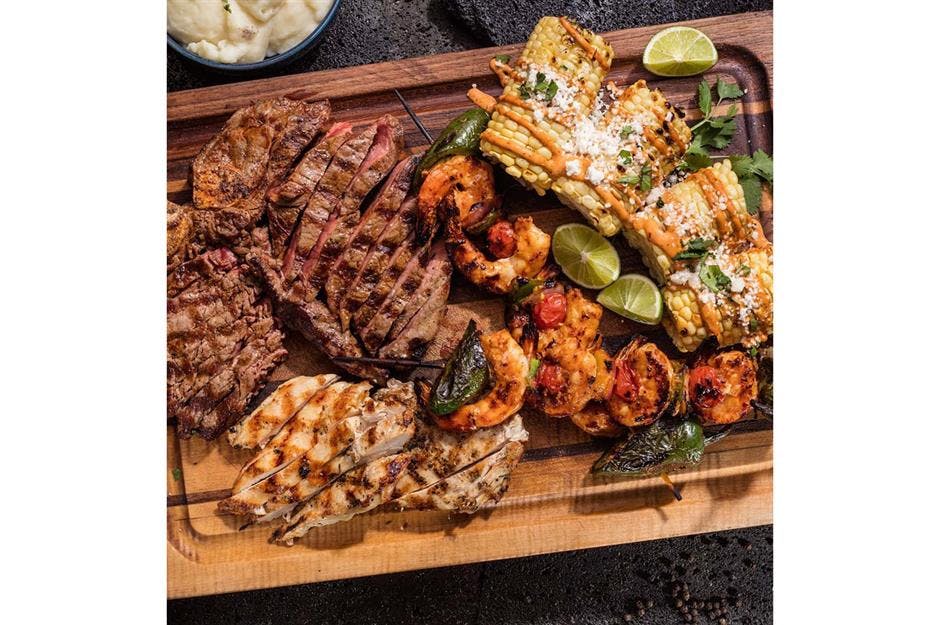 West Texas Chophouse/Facebook
The place to go for incredible steaks, sides and service in El Paso is West Texas Chophouse. From the filet mignon to the tomahawk and rib-eye, the steaks are seared perfectly, juicy and full of flavour, and are served with a baked potato topped with chives, butter and sour cream. If there's something other than steak on your mind, opt for beef short rib, grilled chicken or chipotle alfredo. There's a good selection of burgers and sandwiches too, while those with a sweet tooth will appreciate the Oreo cheesecake and the chocolate mud cake on the dessert menu.
Utah: Station 22 Cafe, Provo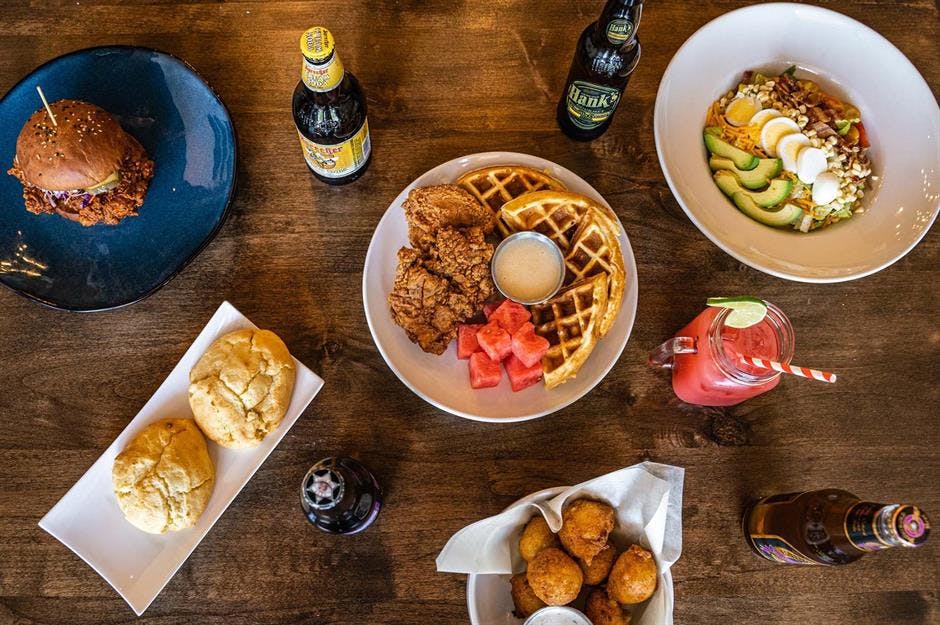 Station 22 Cafe/Facebook
For a relaxed dinner and delicious comfort food classics, look no further than Provo's Station 22 Cafe. With a good-sized dinner menu and daily brunch, customers keep coming back for the chicken dishes in particular. The 24-hour brined and fried chicken with warm buttermilk waffles and syrup is a strong favourite, while the whiskey chicken – fried chicken with veg, gravy and whiskey sauce – gets a thumbs up too. For a more unusual take on a classic, try the meatloaf – it's made with beef, pork and spicy chorizo.
Vermont: Prohibition Pig, Waterbury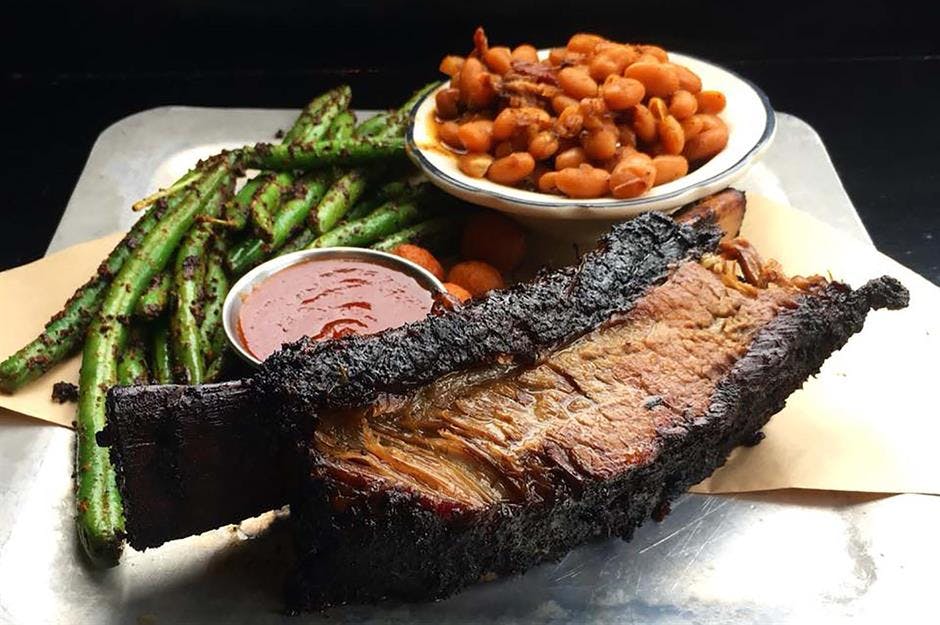 Prohibition Pig/Facebook
The Pig, as locals call it, is garnering great reviews for mixing locally sourced ingredients with Southern cooking techniques, and pairing craft beers (it has its own wildly popular brewery) with pulled pork sandwiches and duck-fat fries. The real star of the menu is the craft mac 'n' cheese that you will most definitely want to top with chopped pork and some house-pickled jalapeños. The pork rinds are a must-try too and the brisket sandwich is simply a delight.
Virginia: Macado's, various locations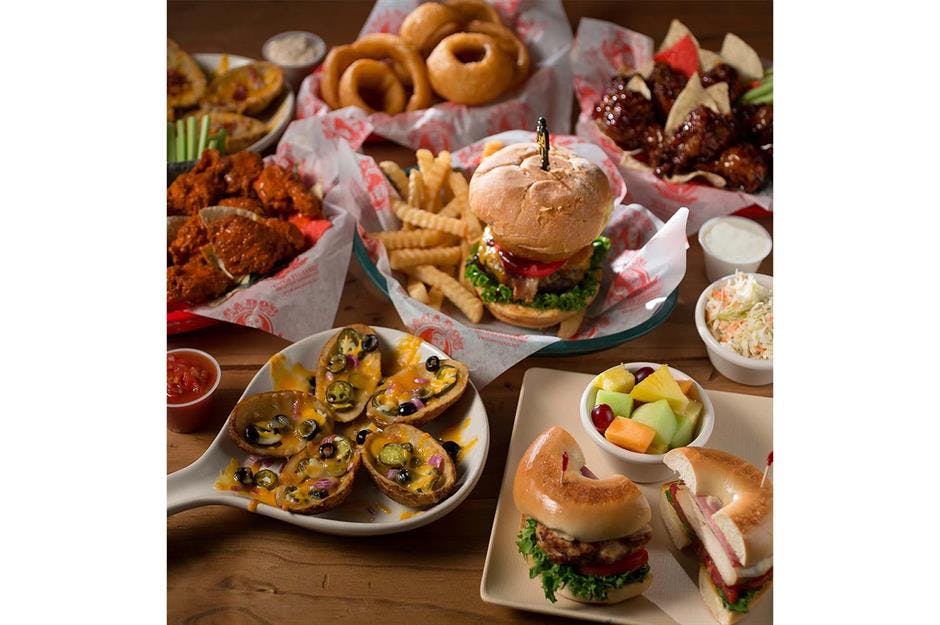 Macado's/Facebook
Fans simply know this place as the Do's. But whatever you call it, Macado's is a reliable spot for staples like loaded potato skins, burgers, mac 'n' cheese and sticky wings. The first restaurant opened in 1978 in Roanoke and there are now several across the state (as well as one in West Virginia, Tennessee and North Carolina), each decorated in the same nostalgic, eclectic fashion. It's especially popular thanks to the reasonable prices, huge portions and home-style cooking.
Washington: Metropolitan Grill, Seattle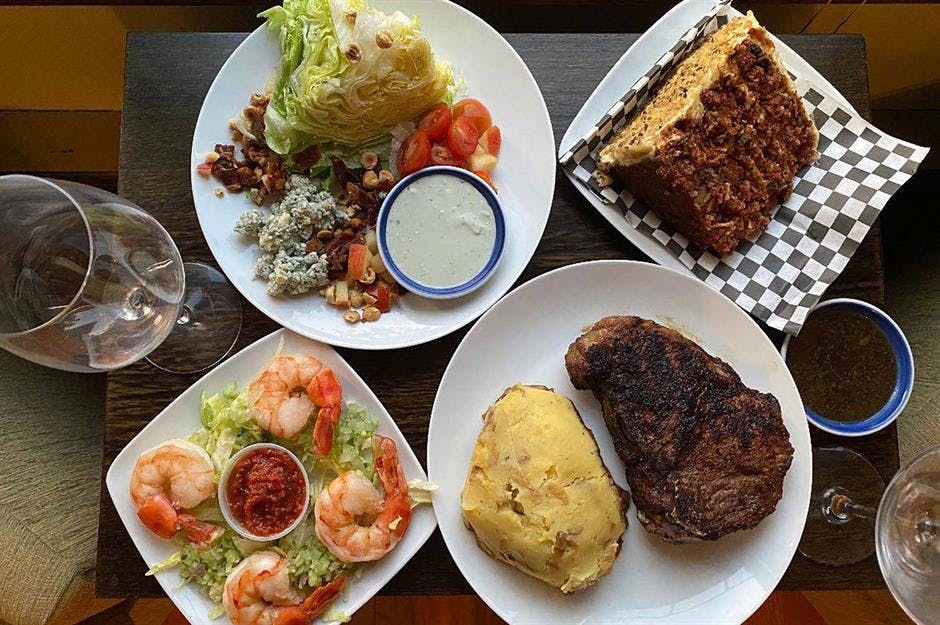 Metropolitan Grill – Seattle/Facebook
Even before Seattle made its mark on the food map, the Met, as locals call it, was an old-school institution frequented by diners with big appetites. Located in the historic Marion Building, Metropolitan Grill's top menu choices include the prawn martini, clam chowder and chateaubriand for two, normally carved tableside. Guests also praise their filet mignon and crab cakes.
Discover the fast food brands everyone loved the decade you were born
West Virginia: Wood Iron Eatery, Fayetteville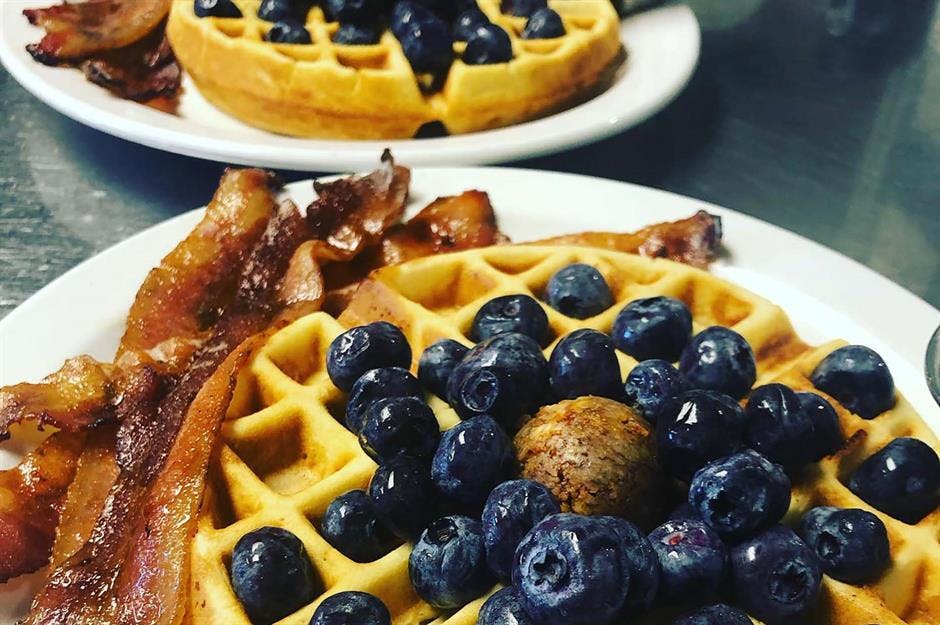 Wood Iron Eatery/Facebook
Opened by Lori and Jeffrey Withrow in 2018, Wood Iron Eatery is an adorable café serving great waffles with myriad toppings, from honeycomb butter to bacon and aged Cheddar, and a crispy chicken sandwich with sriracha and pickles that puts Chick-fil-A to shame. The coffee here is also exceptional and goes extremely well with a slice of the "best vanilla pound cake on Earth".
Wisconsin: Little Diner Xpress, Appleton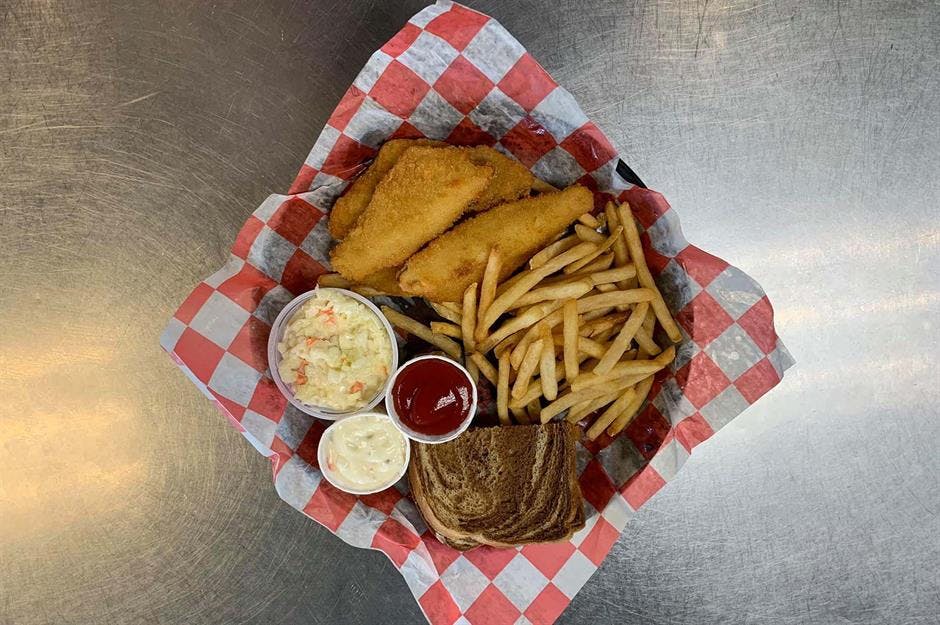 Little Diner Xpress/Facebook
While the name might not sound all that promising, the Little Diner Xpress in Appleton has garnered some local praise over the years. In fact, it has even won Fox Cities Magazine's Golden Fork award for the best diner/café four years on the trot. Dedicated to the "tasty little things in life", the menu features juicy burgers, house-made chilli, sandwiches and a slew of indulgent desserts.
Wyoming: Johnny J's Diner, Casper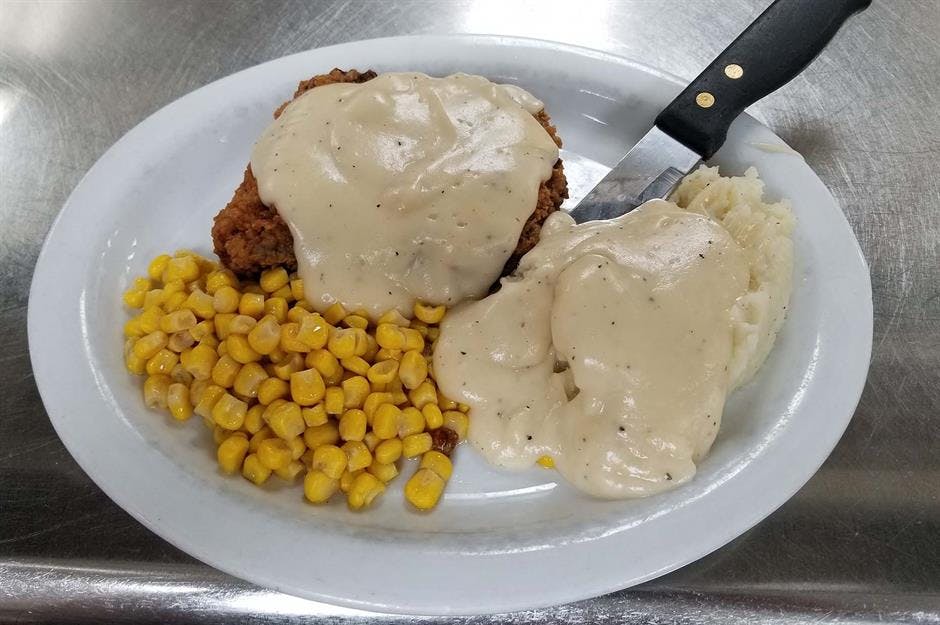 Johnny J's Diner/Facebook
Walking through the doors of Johnny J's Diner is like stepping back into the 1950s, thanks to its retro décor, soda fountain counter and mid-century furniture. Located in Casper, Johnny's serves all-American classics including waffles, cherry-topped milkshakes and their signature cheeseburger. The dinner menu is similarly appealing with meatloaf, chicken fried steak and pot roast all on offer.